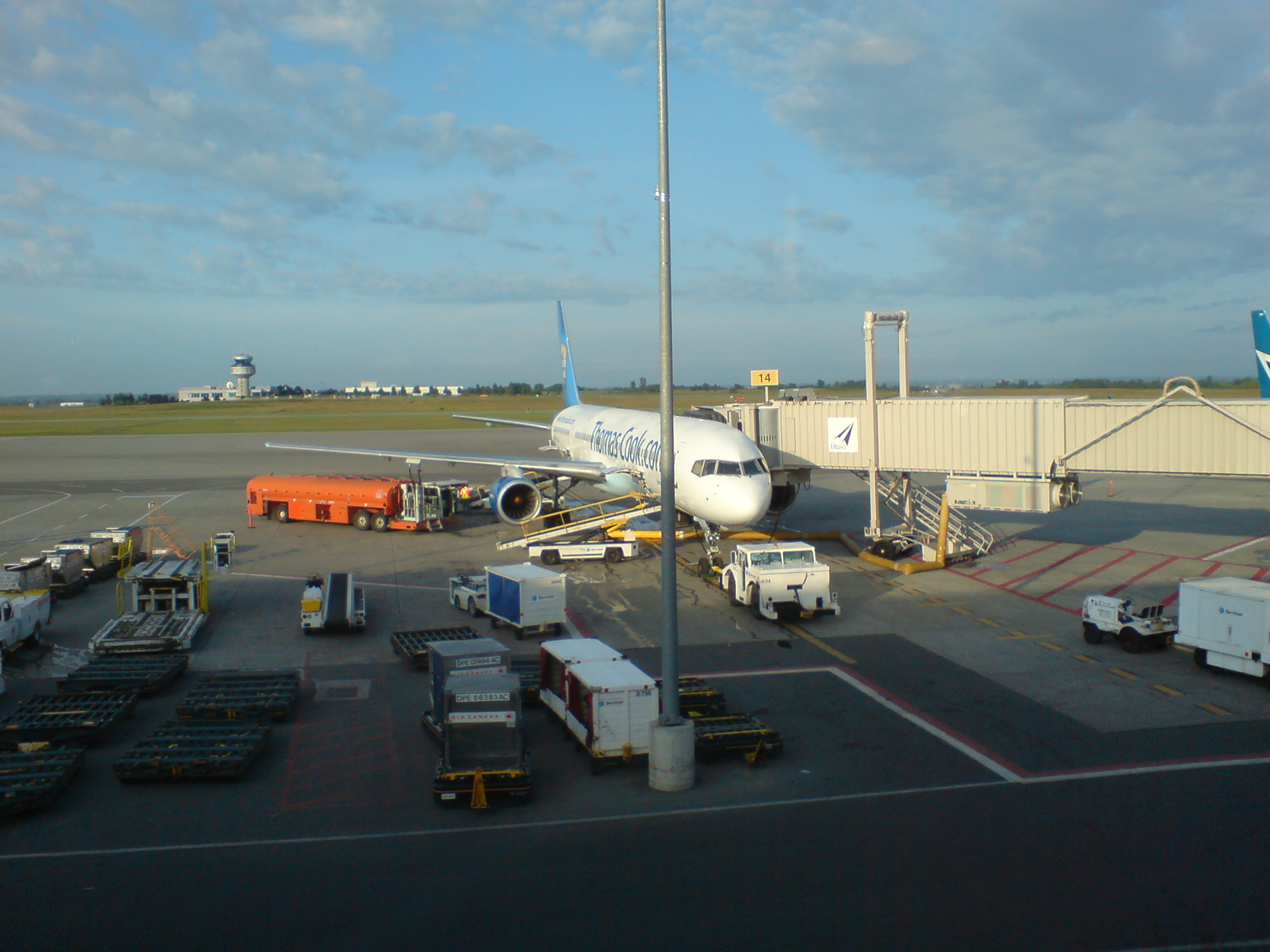 This is the view at 0725 EDT at Ottawa International Airport. The plane pictured is the Thomas Cook Airlines Boeing 757 I was supposed to be flying on from Montréal Trudeau to London Gatwick at 1800 yesterday but almost 14 hours on we're still not moving.
OK, things go wrong with planes – that's understandable. But the sheer incompetence of the airline, and the treatment of the passengers has been quite something. First of all the airline knew at least 12 hours before the scheduled departure that there were problems with the plane, but no effort was made to inform passengers, so everyone turned up at the airport expectantly.
We were then sent to hotels for 6 hours, until 2330 EDT yesterday, and told to then report back to the airport to board buses to Ottawa at 0100 EDT. Apparently Ottawa has longer flying hours than Montréal, and as the plane was supposed to land in the middle of the night that's where we headed. In the end the plane was so delayed we probably could have stayed in Montréal and enjoyed a night of sleep – but maybe that would have cost the airline more…?
Boarding the Ottawa buses was a messy and torturous process, with airline officials herding people into line unnecessarily, and then the buses failed to move for 45 minutes, and then inched themselves towards Ottawa. Staff repeatedly told passengers that the plane would leave at 0600 EDT, but I'd discovered the excellent website of Ottawa Airport (the only thing that seems to work around here) and could tell that was never going to happen.

Bags had already been checked in at Montréal, so all should have been swift at Ottawa? Forget it. Two staff, then reduced to one, meant it took 75 minutes to dump 200 passengers' bags and give out a few $10 breakfast vouchers. It takes a bit of skill to do it so slowly.
And then there's the plane… It has been sat on the tarmac since 0525 EDT, and nothing is happening. A man has sat and fallen asleep in the small truck that pushes back the aircraft, and they have loaded and unloaded a dozen bags. No announcements, no news, absolutely nothing.
In short all of this is complete incompetence.
For me it's doubly frustrating as I will not manage to get the last Eurostar on Saturday evening back to Brussels, so will have to stay in London. Eurostar, as ever, have been fabulously accommodating – why can't their people be employed to run airlines too?