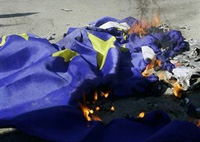 I invest a large amount of time keeping this blog up-to-date. Wherever I am, whatever I'm doing, I think up things I might write, most often matters with an EU-angle. But is it actually worth the effort?
Since the No vote on the Treaty of Lisbon things have been hellish hard. I don't fit into either of the traditional camps of opinion on what to do. I don't think the EU is an evil conspiracy and want the whole thing to fall apart, but on the other hand bland 'pro-Europeanism' as advocated by those very much part of the political system is no good either. So I've been ploughing a rather lonely furrow. I've done my best to respond to the critique of my standpoint, but it's far from easy.
All of this is set against the backdrop of UK political blogging which, despite being resident most of the time in Brussels these days, is still my yardstick. I've never been a Westminster-insider blogger, and I've never been obsessed with the internal machinations of the Labour Party, meaning that people in the UK with my sort of political ideology don't really read what I write. I manage to rile eurosceptics and libertarians, but is giving DK a reason to rant enough reason it itself to blog?
I have some readership among EU politics people in Brussels, yet a couple of entries this week at Kosmopolit and on the FT Brussels Blog made me very much realise how marginal blogging is to EU affairs. Tony Barber of the FT posted an entry about how the UK has come up with an ingenious proposal to deal with the challenges posed by the Nice Treaty and a smaller European Commission. He reckons the fine minds devising solutions are in UKRep. Well, if he had been reading this blog he would have been able to read the very same proposal from me written less than 48 hours after the Irish No. I also speculated that Patricia Hewitt would be the UK's next European Commissioner a good 4 months before the Daily Telegraph covered it. So, if the ideas are reasonable, why so few readers? Well, among the Brussels press corps only 10% read blogs about EU affairs, according to this summary of research on the matter from Kosmopolit. Brussels is a place where you have to represent someone or something – I am independent, and being a blogger in your own right is not enough. I'm also tired of having to explain to people in Brussels what a blog actually is. I would estimate that you could count on the fingers of one hand the numbers of MEPs that have ever read this blog.
So why then do I bother writing this blog about the EU? It's a place to vent my frustrations, to demonstrate to myself that my views are held by very few other people (but I knew that anyway), and to allow myself to get more and more bitter about the political establishment. That's not a very optimistic list.