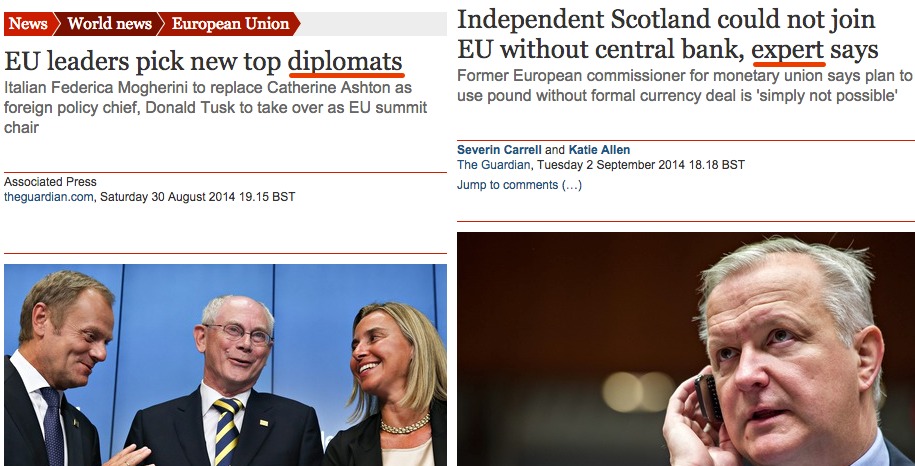 When Blair was rumoured to want the job, the President of the European Council position was branded President of the EU by the British Press. Now Donald Tusk has been appointed to the position The Guardian went the other way, running a story on Saturday entitled "EU leaders pick new top diplomats", referring to Tusk and the new High Representative for Foreign Policy, Federica Mogherini.
These terms actually matter. For me "top diplomats" implies Ambassadors – i.e. administrative people representing a country outside its borders. That is clearly not what Tusk and Mogherini are, although granted they do both play some foreign policy role. Just reverse the scenario though – would Philip Hammond, the British Foreign Secretary, ever be referred to as Britain's "top diplomat" by The Guardian? I rather doubt it, so neither should Tusk or Mogherini.
The Guardian then followed up yesterday, calling ex-Commissioner for Economic and Monetary Affairs and current MEP, Olli Rehn, an "expert". Yes, he is that, but his particular role is explicitly as a politician, and his views on Scotland were especially relevant due to his previous role as a Commissoner. He's more than just an expert.
I do not quite know what is going on here. It could be that The Guardian's journalists do not actually know what these posts do, and hence go for a kind of fudge headline instead (along the lines of Kosmopolit's rules of lazy EU journalism). I nevertheless fear it is something deeper, and more patronising, and insipidly EU-critical – a kind of assumption that the readers are never going to know what happens in the EU's corridors of power, and that they are all bureaucrats of some sort there, so just stick in some sort of bland word.
How, I must ask myself, can even politically astute people (The Guardian's readers are not the same as the Daily Mail's after all) possibly hope to understand what actually happens politically in Brussels if even The Guardian cannot correctly separate politics from administration in the EU?