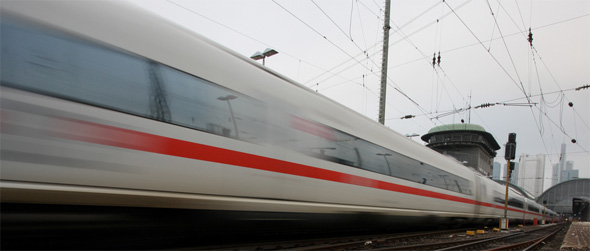 I've had a nightmare winter on the rails of Europe – stranded 3 days thanks to Eurostar (and missing a friend's wedding as a result), delays with SNCF, and mess with a journey to Germany.
Yet today, back home in Brussels, everything looks just a little better.
Almost 2 months ago I booked a train ticket for €60 for Berlin-Brussels for Monday 19th April. Little did I know at the time how sensible a choice that was. The Berlin-Köln ICE was standing room only from Berlin Spandau but with my reserved seat I was happily sat by the window watching the plains and wind turbines of eastern Germany roll by. At Köln things were a little messier – DB decided at the last moment to change the platform of the train – not a good idea to get 200+ people through a narrow underpass and stairs. Then security had to be called to get passengers without reservations off the train. Once more I was OK with my reservation, while a British guy next to me who had travelled overnight from Split in Croatia, no doubt at exorbitant cost, was turfed off.
So next time when friends of mine laugh about my devotion to the train (particularly Marko) then remember the effects of the volcanic cloud!
In the meanwhile I've given some more thought to how rights of rail passengers can be better protected in Europe, a matter first raised in this post. The first fruits of the work are now at RailRights.eu