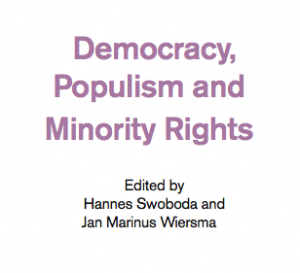 I have been sent an advance copy of the publication "Democracy, Populism and Minority Rights", published today by the Socialist Group in the European Parliament, on the basis of a common seminar with the Renner Institute in Austria. The book is edited by Socialist Group MEPs Hannes Swoboda and Jan Marinus Wiersma although not all the contributors are socialists.
I must admit that I have not had time to look over the whole publication as yet, but 2 articles particularly caught my attention – those dealing with populist movements in Slovakia (article by Monika Benova) and Romania (article by Adrian Severin).
Regarding Slovakia's strange government coalition that I have previously posted about, Benova (a Socialist Group MEP from Slovakia) writes:
"The socialist Chairman Robert Fico had to choose from five right-wing oriented parties out of which two have a strong nationalist background, one is ultra-conservative and the other two are viewed as conservative in orientation.  Finally, the choice was made in favour of the SNS (Slovak National Party) and the HZDS-S (the Movement for a Democratic Slovakia). Was this the right decision? Only time will tell."
So, in short, Fico went for the 2 more extreme conservative parties (the anti-Hungarian SNS and Mečiar's populists) rather that more moderate parties of the right. One wonders what price those on the left are willing to pay for power? Hard for someone within Fico's party to answer I suppose.
Severin, on the other hand, takes a measured and theoretical approach to why populism has risen in Romania – his party, the Social Democrats, are currently in opposition after a period with Adrian Năstase as Prime Minister until 2004 that was beset by numerous controversies. Today's government, characterised by the tension between Traian Băsescu (the President) and Călin Popescu-Tăriceanu (the Prime Minister) has fared little better and – after all – Băsescu is best known for the populist yet effective policy of eliminating the street dogs in Bucharest. Need I say more.
Anyway, with its comparative perspective on populism there are plenty of lessons that mainstream political parties can learn from this. I just hope the Socialist Group puts the publication online to download!