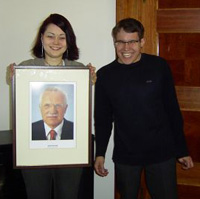 It's not a fun time politically in the two central European neighbours. Both are suffering a series of political travails. I blogged back in 2006 about Robert Fico's unpleasant alliance in Slovakia – now the opposition are using the Reform Treaty as a tool against him, and making Brussels nervous as a result. The Centre for European Reform has an excellent piece about it.
Across the border things are not much better. The Czechs are trying to get their parliament to nominate a President – either the abrasive Václav Klaus for a further term, or his opponent Jan Å vejnar. As the Czech paper Lidove Noviny moans, the Czech Parliament is not capable of behaving with any dignity in this matter.
To lighten this post a bit I've dug out an old photo taken in 2003 with a couple of friends from JEF-CZ chuckling with a portrait of Klaus, a man never known for his commitment to European integration.