A few lines from a typical conversation when I'm asked what I do in Brussels: "I work as a website designer and write a blog about EU politics." Response from whoever I'm talking to: "Oh, I don't read blogs." Rather than the rather simple answer – well, yes you should – a more nuanced and technological solution is called for.
First of all: why read Euroblogs? Because excellent analysis and debate about EU matters is being produced every day on blogs – content that rivals and is a complement to the main online sources such as Euractiv and EUObserver. For links to good quality Euro-blogs, try Getting A Grip of the Euro-blogosphere.
Secondly: how do you best read Euroblogs? That's where it gets a bit tricky. Aside from having a long list of RSS-feeds, something that few have time or the technical knowledge to accomplish, it's not so easy. This blog post outlines the issues, and tries to come up with some sort of solution.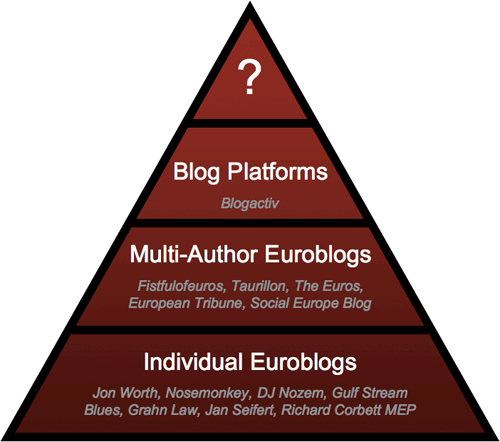 The diagram above shows the 4 levels of blogging about EU politics. At the bottom level are the mass of Individual Euroblogs written by single authors, and blogs dealing with one small part of EU politics. People read these if the blog appeals to their niche area of interest, or they happen to know the person writing the blog. These blogs can be a success in their own right, but they are unlikely to generate a mass readership.
In order to drive up readership and foster communities of people who read and write about the same things, Multi-Author Euroblogs offer a partial solution. Each takes a more generic brand name, and individual authors contribute content to the sites. Quality of the content can be higher than from an individual blog, but building a rapport with the authors can be hard.
EU news website Euractiv has made the only serious investment to date in a broader attempt to structure the Euro-blogosphere. Its Blogactiv Blog Platform system offers individuals the possibility to blog themselves and even to a certain extent brand their blogs, but collects all the content from these blogs in a central website. If a blogger writes decent content here he or she will get a guaranteed readership, but there's little incentive for someone like me to join Blogactiv.
Overall that's just too complicated. How can most people follow all of that? The great success of Iain Dale in the UK, Beppe Grillo in Italy or Loïc Le Meur in France is their blogs are widely known, they are among the first place people turn to for online comment about broadly political issues. Margot Wallström is the closest EU equivalent, but she's a blogging Commissioner, not a political blogger as such.
So how do can the elusive ? part of the triangle above be filled? There are 3 sites that I reckon offer a decent model to show what could be achieved. PolitikPortal.eu is a free service giving daily EU news roundups in German by e-mail, with the website to accompany the e-mail services. Could an English-language blogging equivalent be established? The 5 best Euroblog articles, every Friday morning, by e-mail? The admin would be rather heavy and there would be the need for some decent marketing. Secondly, EuroBrussels shows what can be done over a couple of years if people want the information you have – jobs in their case, and hopefully there are enough people out there wanting EU politics blog content too? Lastly Bloggers4Labour shows how to bring together a few hundred people who write blogs supporting the Labour Party in the UK – it would be possible to do the same for Eurobloggers. Some combination of the models used by PolitikPortal, EuroBrussels and Bloggers4Labour might just do the trick.
So in typical Web 2.0, open source kind of a way, is there anyone out there who wants to give me a hand to turn any of that into reality?