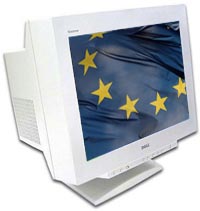 I wrote a first version of this entry in September 2007, and have added and amended it ever since. A starting point for my reflections was this analysis from Euractiv of the Euroblogosphere. I have also reflected on the issues of the Euro-blogosphere having contributed to this academic analysis by Myra von Ondarza at Hambury University. J Clive Matthews has also had a go at a categorization of Euro-blogs.
This post is an effort to group together all the different EU blogs I read into some sort of categories. The sheer number of links below means I never quite know where to start for good EU analysis on blogs – maybe time for some better aggregation somewhere? Anyway, here goes. If you think there's anything to add or you reckon your blog is the wrong category then let me know! Any blogs that don't have RSS feeds are not included – I don't have time to visit all the pages all the time…
Thanks to the excellent work of Jack Thursdon, you can find an aggregator of most of these blogs here.
Commentaries about the EU abound. These blogs generally aim to analyse the everyday goings-on in the European Union. The best of these is Nosemonkey (even if I don't always agree with his analysis!). Gulf Stream Blues, DJ Nozem and Kosmopolit are worth a regular read. Berlaymonster has an amusing take on Brussels gossip. Erkan's field diary is a mix of EU politics and plenty more besides. EU Corruption aims to highlight problems with the EU's administration and wants things to be open and transparent. Tales from the European Underbelly, Belgian Waffle and EU for US look at politics and expat life in Brussels. Other commentaries are The European Parliament, e8voice, Re:Europa, The Evil European, The Rational European, Us Europeans (photo perspective), European Democracy, ¡No Pasaran!, A European View. 4 friends of mine write EU related blogs as well – Helena Markstedt (a Brussels-Swedish perspective), Marko Bucik (Slovenian perspective), Jeremy Hargreaves (a UK-Lib Dem perspective), Alejandro Ribo (a new-technology perspective) and Jo Jowers (a London administrative perspective).
There are also a number of Commentaries with a regional perspective – Balkan Baby, A Northern Perspective, The Beatroot, Europika, James Barbour, Warsaw Station, Jacob Christensen and EU and Romania.
Multi-blogs bring together different commentators on EU affairs. A Fistful of Euros is the best established of these, although I do think the style is at times a bit too high-brow. The Euros (the English version of Les Euros du Village in French) is the best alternative to Fistful. European Tribune has good content but I'm put off by the terrible design. Euractiv's Blogactiv is an effort to create a combined EU-commentary blog, with mixed results – why don't they aggregate other blogs too? Café Babel and ShiftMag also have blogs, and BlogEuropa and Eurozine are other multi-author blogs.
Moving beyond that are the more intellectual Euro-blogs. The Social Europe blog has a variety of authors writing from a centre-left perspective and is always worth a visit. The Centre for European Reform think tank have a blog; the writing is fine, but they do not seem to have understood the blogging medium. European Council for Foreign Relations allows comments on their articles although their site is not a blog as such. Stanley Crossick's blog provides excellent institutional analysis. Centre for European Politics at Royal Holloway, University of London and Telos EN give an overview of EU politics, while Vox EU gives an economic perspective.
The committed federalists have a few blogs worth a look – Jan Seifert was President of JEF (Young European Federalists), and Taurillon is a trilingual multi-blog run predominantly by French federalists. The Federal Union blog contributes additional analysis. The whodoicall.eu blog has all the analysis and speculation about the candidates for the EU's top jobs in 2009.
Centre-left Euroblogs combine EU and social democratic issues. PES Manifesto (a fascinating experiment in using the internet for policy debate) and Progressivt EU group content from many authors, while Remi Bazillier, Yonnec Polet and Scratching the Surface are written by individuals. Noél Hatch has a UK / centre-left perspective.
On the eurosceptic side the main vitriol is provided by EU Referendum and Brussels Journal. The Open Europe think tank chips in too. There are also a fair few eurosceptic MEP bloggers – Daniel Hannan, Roger Helmer, Chris Heaton-Harris. Other eurosceptic opinions are provided by Free Europe, Through the EU Labyrinth, Ironies Too, The Anglo Saxon Chronicle, England Expects, EuroSoc and EU Realist. UKIPwatch keeps an eye on the sceptics.
Journalist blogs about EU matters have been springing up increasingly in the last 6 months. Mark Mardell, the BBC's jovial EU reporter, is the best of the bunch. The FT Brussels Blog, The Economist's Certain Ideas of Europe and Daily Telegraph correspondent Bruno Waterfield take the specific opinions of the respective publications. Bente Kalsnes gives an independent, Norwegian perspective. Brussels Media gives an overview of media in Brussels, while EU-Digest, European Political News and Sign and Sight try to summarise EU news. Public Affairs 2.0 looks at the changing media and communications landscape around the EU institutions.
From within the institutions, Margot Wallström leads the way in the Commission. Commissioners Fischer Boel, Potocnik, Dimas, Spidla and Piebalgs are following Wallström's lead. In the Parliament, Richard Corbett MEP has been blogging for some time (although comments are not allowed – although a Corbett spoof blog does allow comments), while the Socialist Group is developing its blogging presence. A full list of all the Socialist Group MEP bloggers (in all languages) is also available. Mary Honeyball, Bill Newton Dunn and Alexander Stubb are also MEP-bloggers. Jim Murphy, Minister for Europe blogs from the UK Foreign Office.
Last but not least are the thematic blogs. On foreign policy James Rogers's Global Power Europe is the best starting point. Analyzing EU and WSI Brussels Blog provide additional contributions. Dealing with different policy areas, Jack Thurston's work on CAP is predominant – farmsubsidy.org and CAP Health Check provide excellent coverage. Wyn Grant's CAP blog provides more. About the Eurozone, Eurozonewatch and Law of the EMU and the Euro provide the best coverage. The EU Energy Policy Blog provides good coverage of that increasingly important field. EU law is covered best by Ralf Grahn, and also by the ECJBlog, EU Law Blog, and Blogging about EU law and politics, EULawBlogger and Head of Legal.
An overview of blogs in languages other than English is a bit harder! I'm always astounded by the lack of decent EU blogs in German. The best are Nicole Meßmer and Daily Ruben. Helga Truepel is a green MEP that writes about EU politics. Also worth a look are Europa Blog and EUspresso.
EU blogs in French are much more numerous – so much so that it's hard to know where to start! Jean Quatremer from Libération gives an interesting journalist opinion from Brussels, and Valéry Giscard d'Estaing is worth a read. eToile and Le Croche-Pied are two I follow regularly, while Fabien Cazenave and VXL defend the federalist cause. Others in no particular order: Bernard Poignant MEP, Dominique Reynié, Europa Blues, EUROPEUS, Avenir de l'Europe (UMP), Daniel Riot, l'Europe dans la campagne, Marie-Noëlle Lienemann, Nouvelle Europe, Publius, Telos FR, Trans Europe Express (BE), Agir pour l'Europe, Un Européen jamais content, Fondation Robert Schuman BlogEurope, , La construction européenne peut-elle rebondir, Laurent Delporte, L'europe en débat, France-Europe, Journal d'un Chou, Quoi de neuf en Europe, Relatio, Rève d'Europe, Robert Toulemon, European Memories.