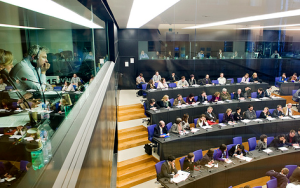 An interesting debate has broken out in Brussels this week over the declining number of accredited journalists that follow the work of the EU institutions. Charlemagne and Leigh Phillips have differing approaches to the issue, and Julien has a visceral blogging take on these matters. Today on Twitter the debate has been taken a step further, raising the question about what role bloggers can play in this – in some way making up for a decline in journalist numbers, or even – as @JanAlbrecht states – providing a public service, even paid.
Thanks, but no thanks…
Essentially if I wanted to become a journalist – be that in print or online – then there would be ways and means of doing that. I would have to improve my writing style and research methods for a start, but it would be a viable career route. But I don't actually want to do that, because I want to write about the things that are of interest to me, here and now, the things that are on my mind. I reckon I am better as a web campaigner and trainer than I ever would be as a journalist, hence why blogging is a sideline.
All I have to make this blog work is my independence and my knowledge, and that creates the reputation of the blog – and having built that reputation over almost 5 years I dare not endanger that. It's all I have.
I state my name, my views, my opinions very clearly. I feel empowered to have a look into basically any political issue, and free to frame my pieces according to my ideological take on matters. That would be called into question if I were paid for what I do.
The same goes for ads – I don't want to even give the impression that I'm somehow linked to whatever financial interests would be portrayed in those advertisements and, anyway, the pittance it would earn me (because my reader numbers are between 600 and 1000 individual visitors a day) is not really worthwhile either.
So that, in short, encompasses my approach… Now back to the day job (which is manic at the moment – hence light blogging!)