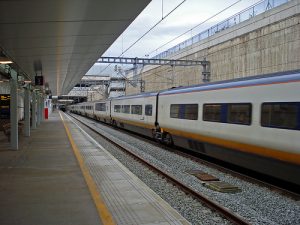 Scandal! The new Stratford International station might well not have any international trains stopping there. Among others the Mayor of Newham and investors building a shopping centre at Stratford are up in arms, as reported by the Evening Standard.
Actually it's no scandal. It's just sensible. And I say this as a Eurostar frequent traveller who, when in London, lives 1 stop on the Underground from Stratford.
Think about it. Every stop on Eurostar requires a 700 tonne, 18 carriage train, slowing down from 200+ km/h to a stop, using loads of energy to re-accelerate, and for each stop adding about 8 minutes to the journey time. Add to this that very very few passengers ever get on or off Eurostar at Ebbsfleet or Ashford as it is and the notion of Eurostars stopping at Stratford, just 7 minutes from St Pancras, is crazy.
Here's an alternative solution. Why not have a Southeastern Highspeed service set off from St Pancras 20 minutes ahead of a Eurostar, and let that collect passengers at Stratford and Ebbsfleet and stop at Ashford. Then a large number of Eurostar trains would stop at Ashford and collect Stratford, Ebbsfleet and Ashford passengers there. It would surely be possible to coordinate timetables and tickets to make that work rather easily? Problem solved, surely?