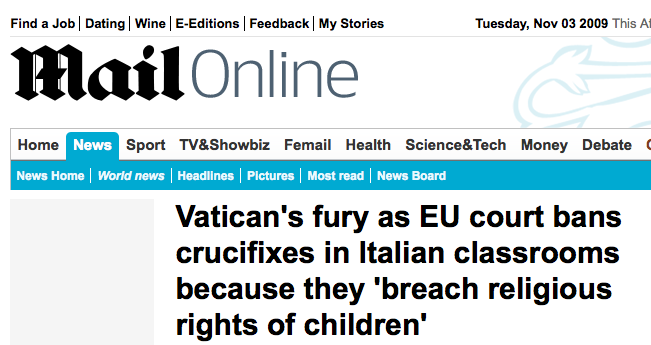 It's not often that something makes me angry enough to resort to language befitting of Devil's Kitchen, but Googling for news of the recent European Court of Human Rights case about crucifixes in Italian schools brought me to this article in the Daily Mail with the headline shown above (they might subsequently edit the headline).
No, you lazy, ignorant f**kwit of a journalist Nick Pisa, THE EUROPEAN COURT OF HUMAN RIGHTS IS NOT PART OF THE EU. It is the Human Rights Court of the Council of Europe. It's not the EU. Get it? Thicko. You could have found that out in, oh, all of 10 seconds by checking with Google and coming across the court's page on Wikipedia.
And people always whine that blogs are inaccurate and disreputable… I maintain that this blog is a lot more accurate than the UK press on European political matters.
[UPDATE – 22h00 CET]
The Daily Mail have now changed the headline, and @Phelim on Twitter has informed me that the journalist in question is blaming the London sub-editors.