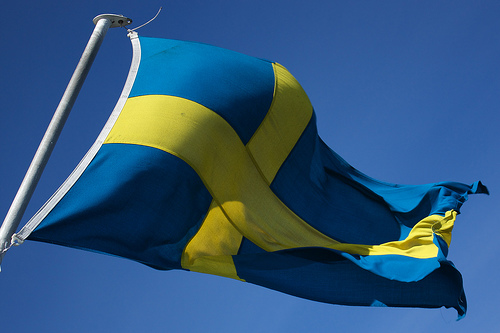 I've been at a conference in Brussels this morning organised by the Foundation for European Progressive Studies (FEPS) and I was asked to give a presentation about Social Democracy in the e-society era – you can find my slides here.
But that's not the topic of this blog entry.
I want to instead reflect a little on a concept raised at the event by Eric Sundström – the term the Swedish Social Democrats are using called Möjligheternas Land or the Land of Possibilities in English. This is essentially a Lakoff-style political framing exercise performed by the Swedish Socialdemokraterna, nailing down in 1 A4 page the very core message for the election campaign between now and polling day on 19th September.
The idea, according to Eric (and as far as I can deduce from DN (translated)), is that the term encompasses the notion that the social democrats are in the political central ground, and that Swedish social democracy is about creating possibilities for people across the board – there are implications for business, education, families, middle classes etc. However the discourse is inherently optimistic.
So what happened in the event? The notion was decisively argued against by the more elderly social democrats in the room, most notably by one participant originating from Germany. We're not, he said, about creating a world of opportunities! We're about equality! That slogan would work better for liberals in Netherlands chimed in another participant.
Oh come on folks.
Look at what happened in the German elections last year. If one thing epitomized that election from a leftist perspective it was the difference in tone between the Grüne (chirpy, optimistic, light somehow) versus Die Linke (hold on to what you've got, workers man the barricades), with the SPD horribly stuck between those two. We all know that defending the past, Die Linke-style, is unworkable.
The exact translation of Möjligheternas Land may not work in every context, but that approach to politics, clever and thoughtful framing of the debate, was a very neat match for the excellent stats presented at the same event by Catherine de Vries from the University of Amsterdam, her research looking at where parties fit into what she terms 'Consideration Set' and 'Choice Set' when it comes to working out which way to cast a vote, a decision taken with just 7 minutes of an individual's time thinking about politics each week.
I was left thinking I was witnessing the political equivalent of Max Planck's famous quote, and wanting to buy a copy of Lakoff's book for all present.