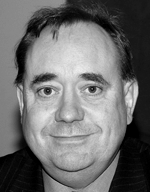 Scottish First Minister Alex Salmond has caused a stir by promising today to persevere with his plans to abolish Council Tax in Scotland and replace it with a 3p in the pound increase in income tax. As far as I'm concerned he's right. This will probably draw howls of derision from any fellow members of the Labour Party reading this, but the problem here is not that Salmond is proposing it – it's more why Labour has never got around to doing something similar!
The quote in reply from acting Scottish Labour leader Cathy Jamieson is remarkable: "The SNP's tax plans will simultaneously make Scotland the highest taxed part of the UK and damage local services. The first minister should stop pretending that he knows better and dump the local income tax now."
Sorry, but if the local income tax were to raise more money that should improve services (unless, I suppose, Councils just let the cash go to waste). Or if the local income tax raises less money it will mean Scotland is taxed at a lower rate than the rest of the UK. It's impossible for both parts of Jamieson's statement to be true.
She also takes no account of the twisted nature of Council Tax (see this entry) where up to 75% of the money spent by poor boroughs comes straight from central government, while in richer areas as little as 20% of cash spent by the council comes from elsewhere – it's essentially a redistributive mechanism, but not determined by local politicians. A council in a poor town in Scotland would have to raise Council Tax 5% to make a 1% budget increase – hardly the prospect for local progressive politics that Tom Miller argues for.
Then there's the issue of whether Council Tax is fair or not per se. As far as I'm concerned basing a tax on 1990s hosuing prices is rather twisted, and does not take account of the services the residents are going to need, nor their likely income. So why not instead raise the same cash from income tax instead?
Then there's the tactical issue. However much Labour (and whatever other politicians) protest, Council Tax is not popular, perhaps even less popular than income tax. So if other parties conspire to block his plans then Salmond can present himself as the guy who argued in favour of fairness and redistribution. Not good tactics from Labour to let him do this even more than he has done to date.
Now I am sure there are practical and administrative downsides to the Salmond plan, and I would prefer it if local councils themselves were levying this tax rather than applying it across Scotland, but from an ideological point of view Labour should support it. Just because the SNP are proposing something doesn't make it wrong.