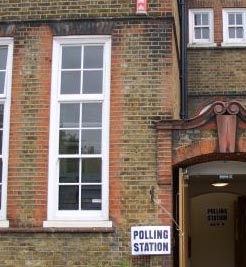 So Labour took a beating in yesterday's local elections; as I write the Mayor of London results are not public, but it looks bad for Ken. I'm not going to write anything here in the traditional vein – Labour on the ropes, bla, bla – but instead reflect on the position of sub-national (second order) elections in the British system.
Let me pose the question bluntly: how many voters went to the polls yesterday and voted according to the performance of their local politicians and local council? Are the voters in Reading dissatisfied with the quality of their refuse collection or the local bus services (issues for the Council), or are they annoyed by getting rid of the 10p tax rate or they thing Gordon Brown looks a tired leader (national issues)? At least part of the hammering dished out to Labour must be to do with the latter. Whatever the result in London at least plenty of debate and newspaper column inches have been devoted to questions of London-wide politics, but I wonder how much that is true (and indeed is ever true) in the rest of the country…?
So there are some exceptions – Oxford always seems to generate interesting city council results, and the 2006 Labour result in the Borough of Lambeth. But the overall pattern is one where voters give national parties a bloody nose, caring little about national issues.
So what do you do about this? Some clarity about political and financial accountability, and an improved constitutional settlement might help.
Firstly, the amount of money a council spends that comes from Council Tax varies wildly across the country. In Surrey County Council, 81% of the cash spent is raised from Council Tax, while that figure can be as low as 25% in poor boroughs. So if you're a local Councillor in a poor area of the country, a 4% raise in Council Tax actually equates to a 1% raise in the overall budget for the Council. The Liberal Democrats are proposing a local income tax system, arguing that Council Tax is unfair due to erroneous housing valuations – case of right answer, wrong reason as far as I'm concerned. If we want decent local politics, let's link financial and political responsibility. We could do the same for the London Assembly, Scottish Parliament and Welsh Assembly too. I think you might call it fiscal federalism, so I'm sure the government would shy away from it.
Secondly, it's about time we sorted out our election timetables and election systems for local government. Why do some boroughs elect 1/3 of their councillors every year, while others do it en masse every 4 years? Why do some cities have directly elected mayors and others do not? Why are there County Councils for some parts of the country but not all parts? Even for political geeks it's damned hard to work out the balance of responsibility between the different levels. We need some sort of Constitutional Assembly or Convention to sort some of this out.
Until we get to grips with those issues hard working local councillors will survive or fall not due to their own performance, but due to the performance of a few people at the top of their parties in Westminster.