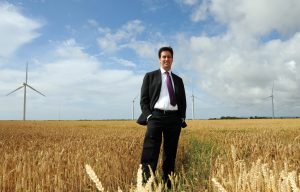 I was at the Progress Conference yesterday and heard the Ed Miliband speech that's the centre piece of Andrew Rawnsley's Observer column today. It was the best speech I've heard Ed give  and he responded in the Q&A session with determination and some humour. It's clear that Ed believes deeply in what he is saying – that the decline of trust in British politics is a crushing problem and it requires urgent solutions.
The problem is that, like Andrew Rawnsley, I am far from convinced that Ed (or indeed any major British politician) is even close to having any of the answers. His recipe seems to be an effort to go back to the basics of party political campaigning – more local activity, community organising as inspired by Arnie Graf. Fair enough, but it's not as if any British political party of any political colour has ever gone far away from this model. It is more than as parties have declined as mass membership organisations, and voting allegiances and populations have become more transitory, meaning the old models do not work as well as they once did. Plus local organising is time consuming and expensive, and in the absence of state funding of political parties, where is the cash going to come from?
The heart of the problem is summed up with Ed's line "I won't make promises that I can't keep". I think he expresses this line honestly enough, but who actually believes it? I don't believe it from him any more than I believe it from any other politician, and hell, I am on Ed's side. It's as if Ed Miliband is trying to just be a better version of a traditional politician, that one last push with the old means will be enough. I'm absolutely sure that it is not, even if it might just be enough to get Labour back into power in 2015.
So what can Ed and Labour do? The 2015 programme could be so vague that no-one would be able to tell if Ed's promises had been broken – hardly a resounding success. Alternatively if promises had to be broken later, this could be done with honesty rather than trying to find ways of showing promises had been kept when everyone else was thinking the opposite. Neither of these approaches is remotely inspiring.
The only alternative is to bring more people into the policy making and governing process, and to do this through online networking. If Labour cannot deliver on its budgetary promises because the economy prevents it, the party could learn from participatory budgeting in Porto Alegre and, by making the facts available to the public, collaboratively reach better decisions – even if those decisions were not perfectly in line with the party's manifesto. The party would also need to experiment with participative democratic tools such as Adhocracy or Liquid Feedback to engage more people in its policy processes from an early stage. This would mean that Ed's line would better be "If I can't keep my promises then you will know why, and you will have the power to help me find solutions". The internet is the best tool ever invented for mass consultation, yet no British political party has even attempted to make it central to its policy making. It is also not even necessary to have absolutely mass participation in this process – it empowers the citizens who want to participate, and by doing so helps legitimise the decisions taken. If you doubt it then this might allay some of the fears.
Will all of this work? I am not altogether sure. But I for sure know that more of the same, even a better version of the same, is not going to be enough. Ed posed the right questions yesterday, and here is my partial answer. What's your answer?