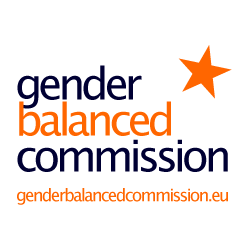 The Treaty of Lisbon has been ratified and Heads of State and Government are getting together on Thursday this week to try to hammer out a deal on the EU's top positions – President of the European Council and High Representative for Foreign Policy. Once that's in place the team of 27 members of the European Commission is going to be put together, with the same style of corridor diplomacy.
It's in that context that I've teamed up with Maria Weimer and Eurosocialiste and a number of others over the last 2 days to cook up a little online initiative about gender balance in the incoming European Commission. The outgoing Commission contained 8 women among its 27 members; the fear is that the incoming Commission could be even worse.
Our small website urges the European Parliament to not approve the Commission unless it contains at least 1/3 women, i.e. 9 of the 27 Commissioners. More than that the EP needs alternatives, and that's what we're providing – a list of 26 viable candidates (Barroso having already been selected). You can also follow us on Twitter, and become a fan on Facebook.
[UPDATE 17.11.09]
The campaign has now been covered on the website of European Voice.