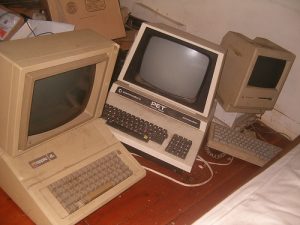 I'm forever astounded when dealing with people outside my circle of friends and work colleagues when it comes to dealing with computers. Still today, in 2010, it's far too acceptable in western Europe to have totally, horribly, shockingly bad computer skills and yet work every day in front of a computer. No-one would ever dare say "I don't know how to use a telephone / DVD player / washing machine" but "I'm useless with computers" is still far too prevalent and indeed acceptable.
Here are some of the things I often encounter:
Double clicking every link on a website (no folks, a single click is almost always enough on the web)
Not knowing the difference between what's on an individual computer (a Word file or PDF file for example), and what's on the internet (a web page for example), and not understanding that most of use of the internet is basically exchanging data between you and your computer, and the vast thing out there called the internet
Capitalising everything (even usernames) and putting spaces after any data entered into any field
Clicking the Internet Explorer icon to open a new window in Windows, meaning IE runs many times and things slow down (rather than using tabs)
The assumption there is only one correct way to do something when, almost always, there are dozens of ways
The notion that a blog and a website are completely different things, when indeed a blog is just basically a website with a comments function
No idea whatsoever about images, resolution and pixels, and how this relates to the size of a file, or the size of a monitor
The prejudice that anything new is always a waste of time, when indeed some things (like RSS) are actually massive time savers
Assuming that all things work the same way on all computers (loads of PC users I know have never used anything other than IE, Outlook and Word, and have never used a Mac – there is another world out there folks!)
A complete lack of inventiveness to think, reflect and learn by doing
An assumption that, because I'm the IT guy, I can solve anything if they ask me…
For me all of this is real digital divide in Europe now – it's no longer about whether people have access to an internet enabled computer or not. It's instead between those that see that the internet changes everything, absolutely everything, about their everyday lives, and those that still feel that those dots on their screen are still something inherently alien.