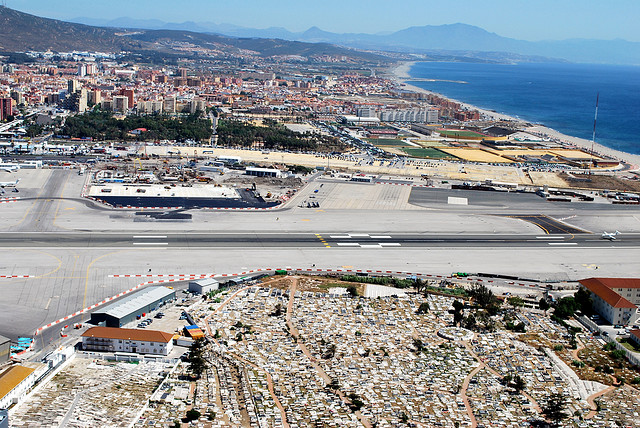 So the Spain-Gibraltar border dispute rumbles on. Queues at the land border to enter Gibraltar persist, and suggestions abound that Spain may introduce a charge to cross from Gibraltar into Spain. Meanwhile Tory MEP for the South West & Gibraltar, Ashley Fox, has called on the European Commission to take immediate action and send a team to check what's happening at the border.
It strikes me that the Commission is not going to care too much about checks and delays at the border. This complaint, after all, comes from the UK, and the UK does precisely that to any visitor coming to the British Isles from anywhere else in the EU as the UK is not in Schengen. Plus the UK's political capital on any Justice & Home Affairs issue is very low in Brussels just now. So I cannot see the Commission caring too much about some queues as a result of border checks. Charging to cross a border is a different matter, but we are not there yet.
But what should Gibraltar do?
Here's an idea. Rather than trying to whip up nationalist fervour in the UK, how about making a case for Gibraltar to join Schengen? That would mean Spain would not actually be allowed to control systematically at the border to Gibraltar. Problem solved.
How then could it work?
Gibraltar is part of the EU, although not a part of the common VAT area or customs union (details here). But neither of those has stopped Switzerland joining Schengen. There is also the precedent of Mount Athos that is in Schengen. There are also numerous precedents for parts of Member States being in Schengen, and others not being in Schengen – French overseas territories for example. Furthermore, Gibraltar is not part of the UK-Ireland Common Travel Area, so passports are needed for travel to the UK. This would mean Gibraltar joining Schengen would be a lot less complicated than the Republic of Ireland doing so.
To do so two things would have to happen. The UK government would have to agree to let Gibraltar join Schengen (but if it took a diplomatic problem off their hands, why not agree?) and then all current EU Member States would have to agree to its accession. If Spain were to threaten to veto, other Member States would surely point out Spain's inconsistency as it is itself within Schengen and has no problem with the principle. If Gibraltar were to signal its intention to join Schengen it would also surely receive a more favourable attitude from the Commission in the meantime.
So then folks, when you face a border dispute, how about thinking of getting rid of the border?