This is part 3 of the series about the Mac mini server. Do read part 1 about the requirements and the hardware, and part 2 about the repairs and the network setup first.
Contents of this blog post
I have more than 28000 mp3 files, ripped from CDs I got rid of long ago. I do not want 150Gb of music on my MacBook all the time (note: I will keep some mp3s on the MacBook, but just a few thousand), and I do not want to pay for enough iCloud storage to store them all there too. But playing this music at home (and on the road as well if possible) – and indeed from multiple devices – is one of the central aims of the server project. So how do you do this?
The answer is initially simple, but there were some glitches to get it just right. It all starts with Apple Music on the Mac mini.
The setup in the Music App and in Media Sharing in System Preferences is: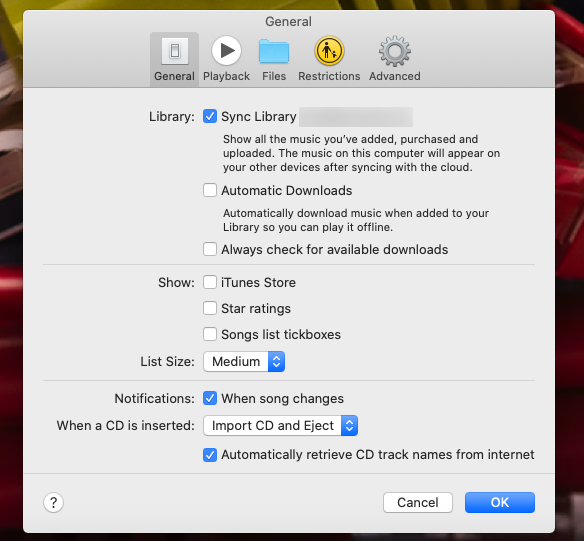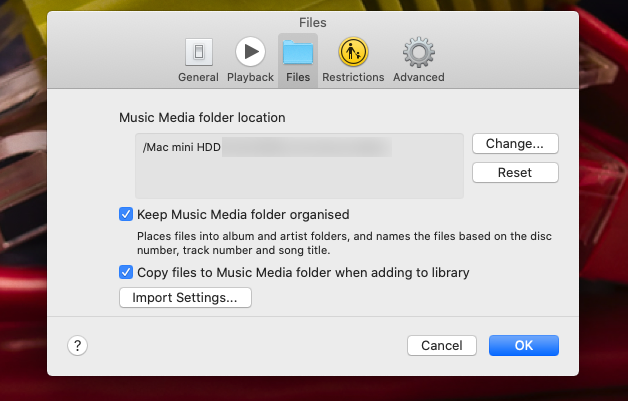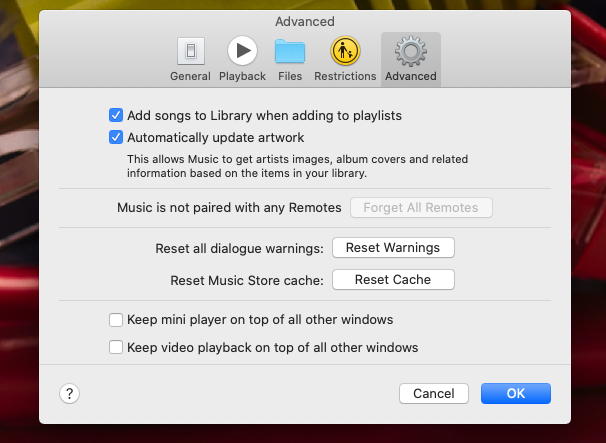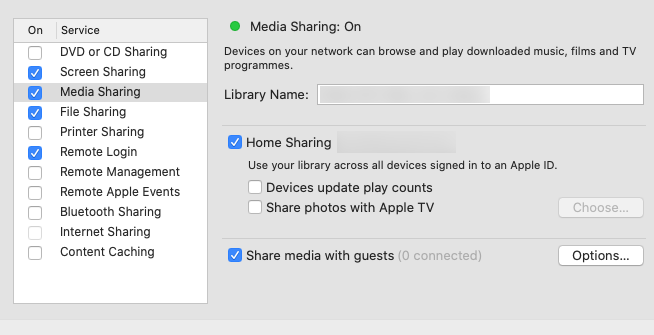 This makes an orderly media library on the Mac mini. Also as an External DVD Drive is currently connected so as to rip the few other CDs and DVDs I have here, these CDs will then be saved to the Mac mini library and then also accessible to the other devices connected here.
That's all easy enough.
But what about sharing this Library?
To other Macs on the network (but not elsewhere) "Share media with guests" works – the Library appears in Music (or, on older Macs, iTunes) on the network. But this does not work on iOS devices. Here, and elsewhere on the net when travelling, "Home Sharing" has to be used, and is explained here – note this must not be confused with Family Sharing. The confusing thing with Home Sharing that Apple does not explain on its explanation page is that you can use a different Apple ID for Home Sharing than for the main Apple ID on your device. So my partner's iPhone has her Apple ID as the main one, but my Apple ID for Home Sharing – because my Apple ID is the one that is set for Home Sharing on the Mac mini. You could of course make a completely separate Apple ID for your server, but then you have headaches with 2FA and app purchases, so I have stuck to using my own Apple ID and my partner using this for Home Sharing.
Last but not least, does all of this work with the old AirPort Express 1st Generation that is connected to the hifi in the living room? Yes. I can play music on my MacBook Pro or iPhone, with the file on the Mac mini, and the output is sent to the AirPort Express.
Anyone who knows me well knows I am not a big film or television watcher. But there are a few series I have bought over the years, and some DVDs too. All of those DVDs hanging around are going to be ripped and saved to the Mac mini. For this I have installed Handbrake on the Mac mini (guide here), and decrypting them using libdvdcss (explained here) installed with Homebrew (guide about how to install it here).
But just as with the music, how do you share this?
The answer is rather similar – use Home Sharing. This allows shows to be viewed on an iPhone in the TV App, and on the other Macs too.
I might have 150Gb of music, but I have 500Gb of Photos. And here Apple's bind-in to store photos in iCloud is even stricter than for music and for films. So here a file sharing system is the way to do it. Both my MacBook Pro and my partner's MacBook Air will have 2 Photos libraries – a small one for everyday use that will reside on each Mac (and act as the System Library in each case, and in my partner's case will also synchronise with iCloud). Then we will each have a sort of Archive Library for older photos, and those two Libraries will be stored on the server. To choose which Library to open, we then simply hold down ALT when starting the Photos App on each Mac. Moving photos between Libraries will be done with Power Photos, an App I already own that costs $30.
12. Music, Films, Photos – the Plex alternative
I have also experimented with Plex and Plex Media Server to do all of the above tasks – how to do it is explained here. Especially for films and TV shows it might prove to be a better bet than the Apple options. Time will tell which works best, but give Plex its due – it's simple to get the server up and running, and it works well with Apple's libraries as well.
The Coronavirus lockdown has not only made me think about building this Mac mini server, but has taken me back to one of my previous areas of work more than over the past few years – web design, specifically with WordPress. For years I have wanted a proper staging server for WordPress projects. There is an obvious solution for this – MAMP Pro. It costs €69, but offers a complete staging environment, especially for WordPress sites. This – together with Dynamic DNS (see point 8. in part 2 of the guide) – will allow me to send clients a login to test versions of their WordPress sites before launch, and I will be able to use the considerable processing power of the Mac mini to do the sort of server tasks that are slow otherwise – mass resizing of thumbnails for example. This staging server is going to need to have a SSL Certificate installed, and will need some configuration of port forwarding on the FRITZ!Box and Archer C7, neither of which are completely accomplished yet. Also for a lot of my training and teaching work I have large files that I need to share with clients – I will also use the Apache Web Server in MAMP Pro for this, with some sort of simple PHP front end – also to be finalised. This will allow me to close down an ownCloud installation I have on my other regular web server for this purpose at the moment.
All of the files for stages 9.-13. are backed up on an encrypted 2Tb WD Elements External HDD that is connected with USB 3 to the Mac mini – this is as simple to setup as Time Machine normally is. Eventually the MacBook Air will also be backed up, via WiFi, to the 750Gb External HDD also connected to the Mac mini, but that has not yet been finalised at the time of writing – a guide how to do that can be found here.
It's hard to draw any solid conclusions from this project yet – the whole thing has just been completed, and it will only show its worth (or not) over the coming few weeks. The total cost of the project, software included, is something close to 500 Euro if you needed to purchase all of this from scratch. Some things – like screen share and remote access – proved simpler than I had expected. Dynamic DNS is a pain to get right, but looks really promising. Some of the media sharing has plenty of potential, but time will tell if it works out. I will update the blog post in a few weeks in light of experience with all of this!