For some years I've been wondering whether to run a server at home. With time on my hands due to the Coronavirus lockdown it was time to finally get around to doing it. This blog post (part 1 of the series) explains the requirements and the purchase of the hardware. Part 2 explains the hardware repairs and network setup. Part 3 is dedicated to the software installations.
Contents of this blog post
We are a two person household. My main work and personal computer is a 2017 MacBook Pro with a 512Gb SSD, and I usually use that at my desk where it connects to a 2Tb WD USB 3 external HDD that contains old files, and a 1Tb USB 2 external HDD for Time Machine Backups. All of this is backed up a second time to a Hitachi 3Tb external HDD that is connected once a month or so. My partner has a work computer that doesn't come into any of this, and for personal use has a MacBook Air with a 256Gb SSD that she uses around the house – never at a fixed desk. All her other files and Time Machine Backups are on two 2Tb external HDDs connected as and when they are needed. We play music wirelessly to an old 1st Generation Airport Express that is connected to the HiFi. Our WiFi Router is a tp-link Archer AC1750 that is connected by ethernet cable to the modem-router provided by our ISP. We each have iPhones as well, but that's not important for this story.
The server will first and foremost be a repository for four sorts of files: all our music, films and photos (the quantity of which is too large to store on either of our MacBooks), and common files for an art project we run together. Music and films are going to need to be streamed to each of the MacBooks, and photo libraries loaded on each of the MacBooks. Beyond that I am looking to replace my ownCloud-based file sync system (that runs on server space I rent in the UK still) with an equivalent on the local server – and that is going to need some way to access the home server remotely. Last but not least the occasional websites I still build could do with a staging server, and the home server might be able to act as that. Lastly the server will be used for Time Machine Backups of my partner's MacBook Air, if we can get that to work.
The nature of the requirements above means this has to be an Apple server. But Apple doesn't build servers! I hear you say. Well, it sort of does / did – Mac Minis. Small, low power, and some even were labelled Server. But which Mac Mini do you even go for?
The answer boils down to how you balance cost, speed and upgradeability.
I need space for 2 hard disks as I will install a SSD drive for speed, and a regular hard disk for all the music and film files. USB 3 is always a good idea, as it makes attaching external hard disks much less onerous. And upgradeable RAM is useful too. And if it could run the latest macOS that would be a plus too.
What I do not need is especially fast wifi (this Mac Mini is going to be connected to my router with an ethernet cable) and I definitely do not need an optical drive.
That then leads me to the late 2012 A1347 Mac minis that exist in three versions – core i5 2.5GHz, core i7 2.3GHz and core i7 2.6GHz. These are the first Mac Minis to have USB 3, have no optical drive, have upgradeable RAM (2 slots for 1600MHz SO-DIMMs, so 2 x 8Gb max), and space for 2 2.5″ hard disks. In comparison Mac minis from 2011 and earlier have only USB 2, and those from 2010 and earlier still have optical drives. Newer Mac minis (from 2014 onwards) have RAM soldered onto the logicboard, and space for only one hard disk. Yes, 2014 Mac Minis have faster 802.11ac Wi-Fi, but that's not what I am looking for. So a late 2012 Mac mini it has to be.
(Tangent: a really budget alternative would be to go for a A1283 2009 Mac mini (the last of the generation with plastic on the top of the housing), use a patched version of macOS (see compatibility here), put 8Gb of RAM in it, and replace the DVD drive with a SSD in a caddy. But that still only has USB 2…)
So where do you find an appropriate Mac mini? In Germany on ebay.de or eBay Kleinanzeigen (the latter is like Gumtree or CraigsList for the non Germans reading). Late 2012 Mac minis with core i7 processors go for over 300 Euro and that was more than I wanted to spend, so a core i5 2.5GHz is what it would have to be…
Here is the full kit: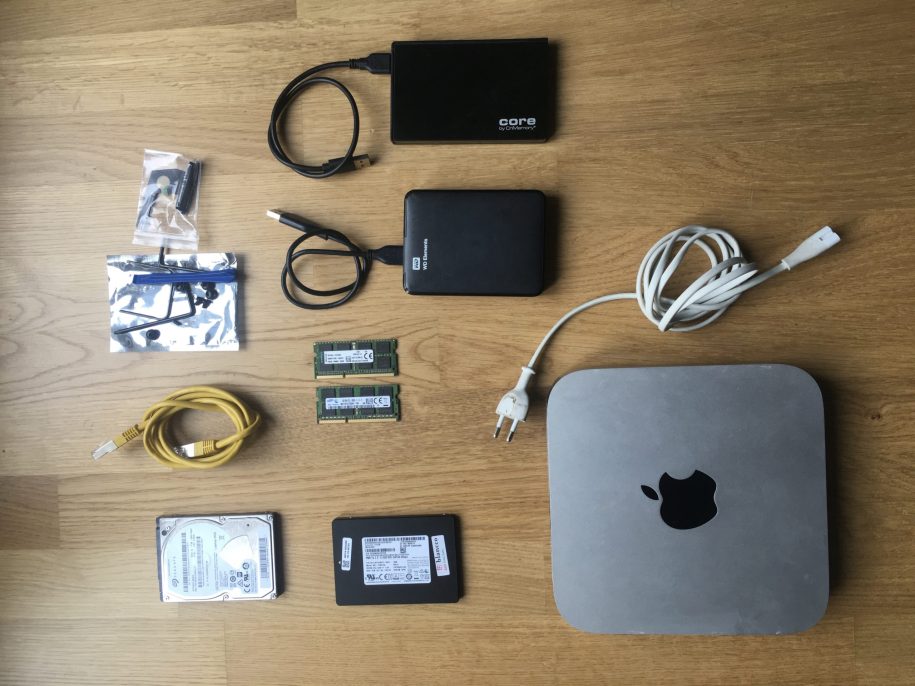 Mac mini core i5 late 2012 – 260 Euro from eBay Kleinanzeigen, collected in Berlin. Secondhand, some scratches on it, no original packaging and just a power cable with it. The 500Gb hard disk in it will be sold for 10 Euro, the 8Gb of RAM in it will be sold for 25 Euro, so 225 Euro for the Mac Mini
512Gb Samsung 2.5″ 7mm Height* SATA SSD – second hand, 56 Euro from eBay.de
2Tb Seagate 2.5″ 7mm Height* SATA HDD – new, 65 Euro from eBay
Ethernet cable – owned already, about 3 Euro
2 x 8Gb 1600MHz DDR3 SO-DIMM RAM – owned already, but normally about 70 Euro
WD Elements 2Tb USB 3 HDD – owned already, but second hand normally about 40 Euro
Core / WD Blue 750Gb USB 3 HDD – owned already (old MacBook HDD in a housing), to be used as secondary backup disk, probably worth about 20 Euro
Mac mini Second Drive kit – new, ordered from eBay here – 13 Euro
* – note that you can just about fit 1 12.5mm height drive in this Mac mini, but most 4Tb 2.5″ drives are 15mm height and will not fit. Make sure you check the height of any drive before you order it! 9.5mm drives will fit without any problem.
That is a total of 492 Euro. Go for a 120 or 240Gb SSD rather than 512Gb, just one backup disk rather than two, 8Gb of RAM rather than 16Gb, and you could bring this to something like 400 Euro in total.
For the sake of all the configuration I also of course need a keyboard, mouse and monitor. Doing this with a USB cabled mouse and monitor is always easier. Installing Mac OS from a USB Stick is always the simplest way in my opinion, so a 16Gb USB Stick is handy to have around too, although not strictly necessary.
So that's all for part 1. Part 2 covers taking the Mac mini apart, installed the components, installing the latest version of macOS and sorting out the network, and part 3 (forthcoming) will cover software installations!