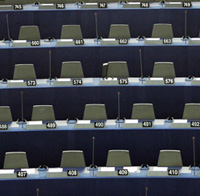 I'm probably about the only person anywhere who gets really hung up on the question of how effective MEPs are. A majority of the populations of European countries cannot muster the energy to turn up to vote, let alone cast a critical and analytical eye over their European representatives.
But anyway, for European Parliament and good governance geeks like me, there's a new website that gives a whole goldmine of information about MEPs' performance, run by the Romanian institute IPP.
There are three groups of facts: attendance at plenary sessions, loyalty to political groups in roll call votes, and motions for resolutions. It's far from a comprehensive data set, but interesting nevertheless. A comparison between attendance records of British and Italian MEPs partially disproves the point raised in a comment on this blog by James Stevens – at least when it comes to plenary sessions attendance of Italian MEPs is not significantly lower than that of the British, although plenary attendance is a very crude measure. Ashley Mote fares worst as he was in jail for a large part of the last year, while Robert Kilroy Silk (second lowest) presumably spent his time on the Côte d'Azur instead.
More interesting is loyalty to political groups for the UK. Green Jean Lambert wins in terms of slavish loyalty, followed by all the Lib Dem MEPs, then the Labour MEPs (Neena Gill tops the Labour list – no surprise there), then UKIP's MEPs, and finally the Tories. This is how you would expect the table to line up, so it's interesting to see it statisticaly represented.
Jens Peter Bonde's record is also fascinating. A very active MEP with a good attendance record, he nevertheless ranks as the 3rd most rebellious MEP in the EP.