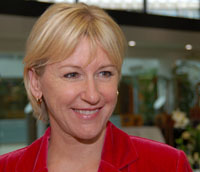 Just a few lines, but they say a lot about the person:
By Friday I had to get up to prepare for a dinner at home with Her Royal Highness Crown Princess Victoria of Sweden as one of the guests (!) She accepted gracefully the not so professional service (= me and my husband not always knowing from which side to serve our homemade food) and was a great guest!
Those words are from the latest entry in Commission VP Margot Wallström's blog – a very personal sentence, heavy with political meaning for this centre-left politician, originally from Skellefteå: if a political blog is nothing more than presenting government information and adding a comment function, then is it worth bothering at all? Wallström manages to convey a picture of her as a person, building a rapport of sorts with her readership.
Much as I admire him as a politician, David Miliband's blog is often rather dry and the presentation is even more dull. Phil Woolas's Bali Diary had promise, but will there be more? The DWP blog (now closed) was an example of what not to do – tedious. Interestingly if you type 'UK Government Blogs' into Google you get the Microsoft UK Government Blog as the number 1 result. Miliband's blog is powered by some gruesome Microsoft technology (it has a .net favicon) so perhaps that's the root of the problem – does government actually have any people working within its IT who – both in terms of programming or strategy – have any clue about the blogosphere? Looking at Margot's blog should be the first these people should do.
[UPDATE – 08.01.2008]
I've just come across some more analysis of these matters from Stuart Bruce and PR Blogger, looking at governmental blogs and what is and is not party political.