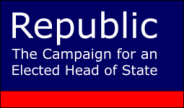 In response to the Harry is racist scandal David Cameron said this:
I think it's important that in the great institutions… we root out attitudes like that. That has to go right across the institutions.
I'm not sure whether Cameron reckons the army or the royal family is the great institution – I personally don't hold either in high regard. I do at least understand why we need an army, but it's really high time to get rid of the monarchy. Republic is leading efforts in that regard – join!
As for Harry's comments: with a (probable?) grandfather who says things like this then are we remotely surprised? Daily Mash has more in typical style.