On 18 May (18 days ago) I started a little experiment. Using SocialBro I started a private Twitter list called People Who Interact. This list was automatically created – out of everyone who either replied to a tweet I wrote, or RTed a tweet of mine. The summary of the results – a screenshot from SocialBro – is here: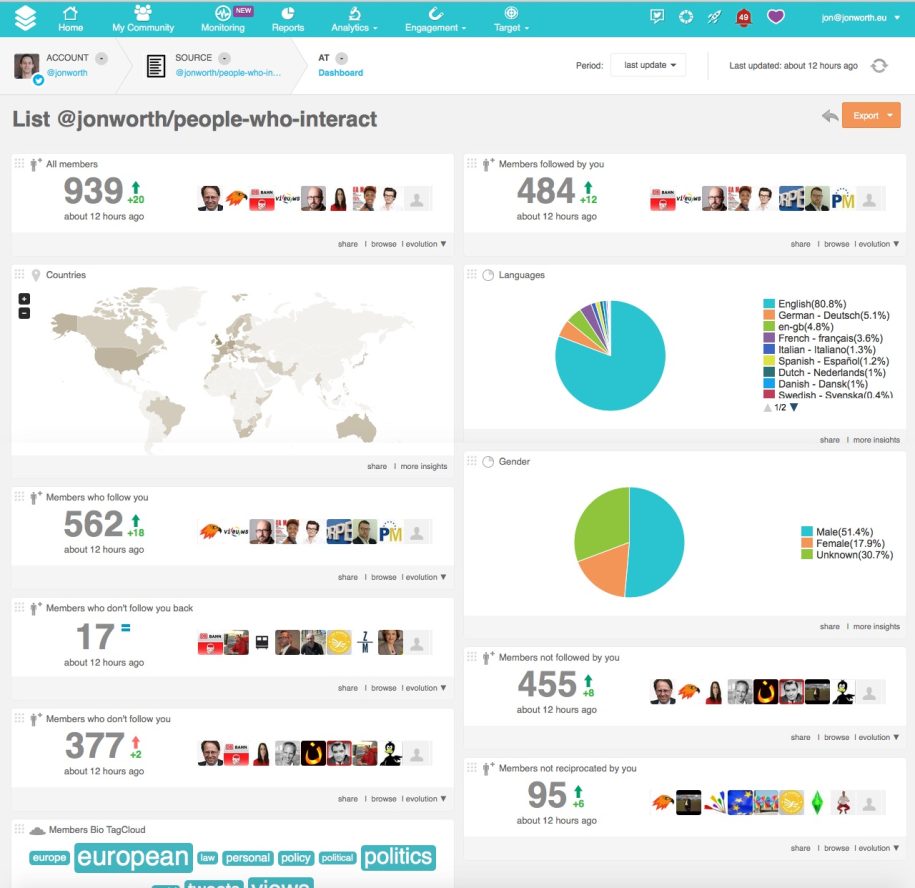 Some elements of this are worth examining in some depth.
I have 14261 followers at the time of writing on Twitter, and I write 186 tweets per week (according to FollowerWonk) – so 27 tweets per day. 52.5% of my tweets are @-replies, so about 13 of my daily tweets (or about 227 tweets across the whole 18 day period) will theoretically reach all the 14261 followers.
My tweets have generated interactions – either replies or RTs – from 939 different users over that period. However only 562 of those users are people that actually follow me. 377 of them are people that do not follow me – that's genuinely interesting, and far higher than I would have imagined. However the stat among my followers is more depressing – a measly 3.94% of the people who follow me actually had some sort of meaningful engagement with my tweets over an 18 day period.
Don't trust the gender statistic in the graph above – I have debated this at length on Twitter a number of times, and no-one can work out whether these stats are actually reliable.
All of this seems to confirm my intuition that my tweets get less and less effective – that tweeting things feels like tweeting into the ether, and getting decent debates and engagement going with an audience beyond my EU politics core people gets harder and harder. I'll keep the experiement going for a while longer to see if and when the picture changes, but don't hold your breath – as Twitter gets more and more commercial, and less and less equal, my fear is that this problem will only worsen further.
[UPDATE 10.7.2015]
Now the total number of people I have had interactions with on Twitter has reached 1800. Of these, 977 follow me and 822 do not. I follow 786 of these 1800 people, and do not follow 1013 of them. The problem very much remains the same as I have outlined above – just 6.74% of the people who follow me have in any way engaged with me in the 53 days since I started this experiment. So much for Twitter being interactive!
Anyway, in a formal sense I am going to now end this experiment – I will keep the list running, but I will actively use it to find potentially new and interesting people to follow. That might help my Twitter use, but will render the stats for the experiment less relevant.