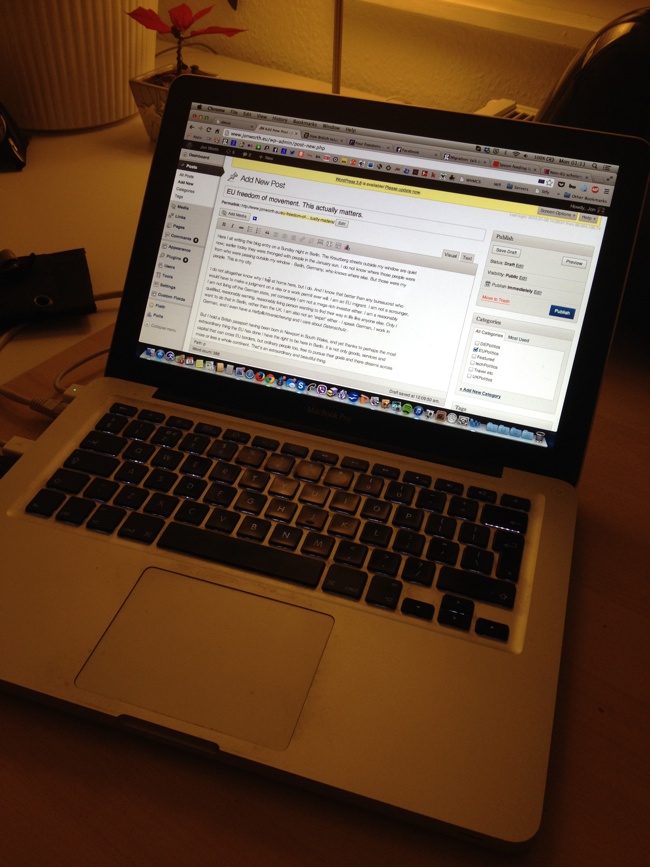 Here I sit writing this blog entry on a Sunday night in Berlin. The Kreuzberg streets outside my window are quiet now; earlier today they were thronged with people in the January sun. I do not know where those people were from who were passing outside my window – Berlin, Germany, who knows where else. But those were my people. This is my city.
I do not altogether know why I feel at home here, but I do. And I know that better than any bureaucrat who would have to make a judgment on a visa or a work permit ever will. I am an EU migrant. I am not a scrounger, I am not living off the German state, yet conversely I am not a mega-rich investor either. I am a reasonably qualified, reasonably earning, reasonably living person wanting to find their way in life like anyone else. Only I want to do that in Berlin, rather than the UK. I am also not a classical 'expat' either – I speak German, I work in German, and I even have a Haftpflichtversicherung and I care about Datenschutz.
But I hold a British passport having been born in Newport in South Wales, and yet thanks to perhaps the most extraordinary thing the EU has done I have the right to be here in Berlin. It is not only goods, services and capital that can cross EU borders, but ordinary people too, free to pursue their goals and their dreams across more or less a whole continent. That's an extraordinary and beautiful thing.
So when any politician or any colour or any nationality attacks freedom of movement it hurts. It hurts me, and it should hurt every single one of us 2.2 million holders of UK passports who live in other countries in the EU. Each and every one of us would have to go and prove to someone in some government office somewhere that we are allowed to stay where we actually want to be. To prove we are allowed to stay where we've invested our time, our futures, whatever those may be. Where we can be artists, or pensioners enjoying our retirements, or students, or freelancers, or bankers, whatever we want, and that is our choice.
That is my story. That is EU freedom of movement. This stuff actually matters.