I lived in Berlin for 6 months in late 2001 / early 2002; since then I feel I have been playing catch up, trying to understand a city that I was too young to fully appreciate when I lived there. Perhaps I should rephrase: I reasons I enjoyed my time in Berlin back 8 years ago are very much the same as the reasons I love to return to the city – it's liberal, relaxed, organised, creative, fun, there are plenty of public spaces. But then I was not as conscious of all the history that was around me, I just enjoyed it at face value.
Reading Stasiland by Anna Funder and, to a lesser extent, watching Das Leben der Anderen, has made me reflect a bit more about the history of Berlin and there's one place mentioned in Stasiland – the Hohenschönhausen Stasi prison – that I have been planning to visit for ages. A couple of days ago, on a sunny Saturday afternoon, I took the tram to the north east suburbs of Berlin and took one of the tours. As well as the photos below you can see more images of the prison on Flickr.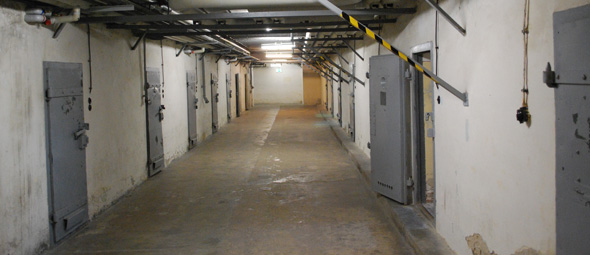 Tours of the prison are conducted by former prisoners. Our tour guide was a West German who had initially been imprisoned in Sofia, Bulgaria, trying to help someone escape to Yugoslavia. He was subsequently transferred to Hohenschönhausen for a month, before back to Bulgaria and after 2 years total imprisonment was sent back to West Germany. He was able to show us the very room where he had been interrogated in 1975 and had many stories of the mental pressures applied in the Hohenschönhausen prison. Physical torture was eliminated in the early 1950s; mental pressure was subsequently the option of choice.
The buildings are themselves not as scary as I would have imagined. The underground 'U-Boot' cells used in the 1950s are grim, airless and basic. In those cells some of the water torture equipment has been reconstructed. The rest of the buildings, dating from the 1950s, feature cells with some natural light through glass bricks and basic wooden beds and sinks. The long corridors and interrogation rooms are predominately 1970s brown lino with brown wallpaper. Corridors have a lighting system to make sure that prisoners would never meet each other between cells; outdoor 'tiger cages' were the place for exercise.
There was also considerable emphasis placed on confusing new arrivals. Prisoners were often transported for hours in the van pictured below to make sure they were disorientated before their arrival in the prison.
I can't begin to describe all of the stories told during the tour, or even come to terms with my own feelings about the museum in a short blog entry. It's just clear that hiostory very much lives in Berlin still, not least because so many ex-Stasi still live in the neat streets surrounding the prison. If you want to better understand the meaning of 1989, the meaning of freedom and democracy, then visit the prison the next time you're in Berlin.