I tend to steer clear of Leffe beer in Belgium – it tastes inferior to the likes of Orval or Tripel Karmeliet, and I always tend to fear the market influence of large brewers like InBev, the owners of the Leffe brand. But a friend I'm staying with had a bottle in their fridge, and hence a little investigation began while drinking it.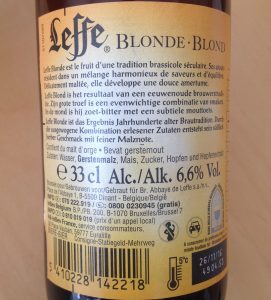 First of all, where is the actual "Abbaye de Leffe" mentioned on the bottle of Leffe beer? The answer, it turns out, is in Dinant in Wallonia (map). But if you read the label on the back of the Leffe bottle carefully (click the photo here to enlarge it), you see it says "Brassée pour" i.e. brewed for the Abbaye de Leffe, not brewed at Leffe. According to Wikipedia, Leffe is actually brewed at the Stella Artois brewery in Leuven, 90km from Leffe, and in Flanders. The brewery looks like this – hardly an abbey!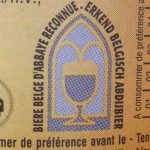 Look at little further and you discover the logo "Bière Belge d'abbaye reconnue" – so what does this mean? This is a sign from the Belgian Brewers' association, documented in French here. There are three aspects to this certification – that there is a link (lien) with an abbey that exists or no longer exists, that royalties are paid to that abbey or the institution that succeeds it, and the abbey has control over the way the beer is marketed.
This all strikes me as ludicrously tenuous, not least if the brewery paid adequate dues to the abbey to mean the abbey was in no financial position to impose its will with regard to the way the beer is marketed. Also the 1240 on the label of the bottle indicates when beer was first brewed in Leffe, but the brewery there was destroyed in 1794, and brewing only resumed in 1902.
So the lesson from all of this is to check the label very carefully, otherwise you may well be falling into the trap of thinking you're drinking some traditional brew from an abbey when you're actually consuming some mass-brewed beer from a major multinational brewery. That'll leave a more bitter taste than Leffe's slightly sweet maltyness ever will.