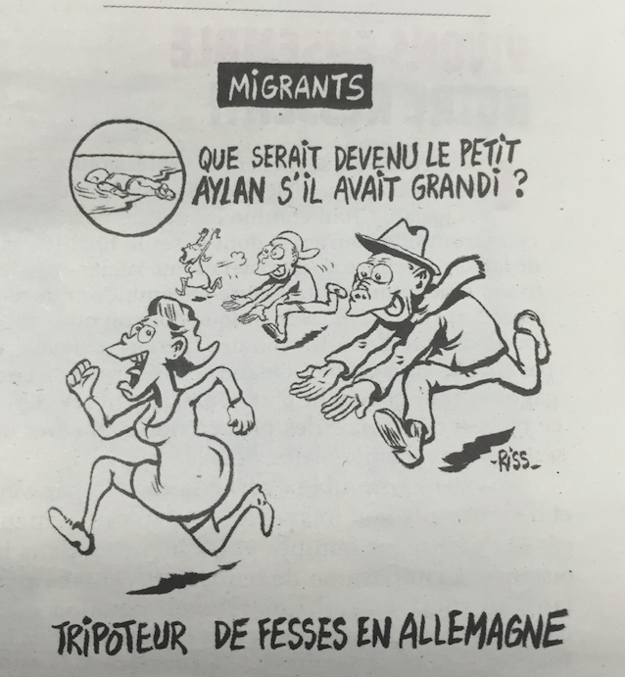 Charlie Hebdo has everyone up in arms with their latest cartoon. People have variously said they are enraged, that it is racist, that it is disgusting. For me it most definitely is not funny, but it encompasses such complicated contradictions in one image, in such a painful way, that I see it as masterful provocation.
The death of the toddler Alan Kurdi, and the photos of his body on the beach, rightly provoked outpourings of grief. The death of an innocent infant – and he was far from the only one to die making the tragic trip to Europe – are tragic, and he was rightfully mourned. His death helped change political opinion to be more pro-refugee in Europe in the autumn of 2015.
However a three year old can be little other than innocent. With adults it is more complex. And with more than 1 million asylum seekers having come to Europe in 2015 it was only a matter of time before some of them committed crimes. There is simply no way they would all be paragons of virtue.
To mourn Alan, but to point the finger at asylum seekers for the Köln New Year sexual assaults and – in particular – to take a harder line towards asylum seekers arriving in Europe as a result, is the essential contradiction from this Hebdo cartoon for me. You cannot screen out molesters before they arrive; your only option is to investigate, try and imprison those that behave that way, and – come what may – defend the right to asylum from those fleeing war.
Those on the receiving end of the cartoon are us, the Europeans who cannot see our own hypocrisy, and the cartoon nails that – in its harsh and perhaps tasteless way – better than anything else has so far. It is obviously not literally alleging Alan would have become a sex attacker, because that is clearly absurd.
So if you see Europe's hypocrisy in the Charlie Hebdo cartoon, don't get angry at the magazine, but direct your fury at Horst Seehofer proposing an arbitrary cap on refugee numbers for Germany, at Robert Fico using Köln as a justification for Slovakia to refuse to take any refugees, at Hungary for bringing a ECJ case against migrant quotas, and at the governments of France and the UK for refusing to act on the "jungle" refugee camp near Calais and choosing to bulldozer the place instead.