OK, here we go again. I've lost track of the number of times that there have been weak and weedy attempts to ditch Gordon Brown over the last 9 months or so. This time things are perhaps a little bit different – the Hoon-Hewitt plot is open and on the record, and they are at least both former cabinet ministers, although they claim this is no coup attempt against Gordon Brown – it could equally strengthen Brown were he to win such a poll of MPs. This then prompted a typical sort of tribalist response, typified by this tweet from Labour candidate for Manchester Withington Lucy Powell: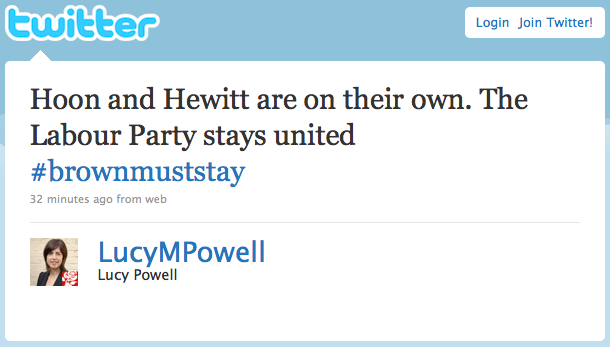 Look Lucy and anyone else trying to defend that line in public – it's a load of crap. Labour is not united behind Brown. It's not united behind anyone as an alternative to Brown either. People might not be behind Hoon and Hewitt (and especially not their timing), but there's scarcely any Labour person I know that doesn't have some sort of misgivings about Brown's leadership. There's no way to gloss over that. To do so is futile. But, conversely, what I write does not necessarily mean that Brown is not the best person to lead Labour into the election.
That leads me to the conclusion that I am not especially bothered about whether Brown is now ousted or not, and I say this as someone who joined Labour at the age of 16 and still carries the card. If Brown is ousted then a new leader will have too little time to change things much. If Brown stays then Labour will potter ahead towards an election with a wounded leader. Either option is rather sub-optimal.
All I want is some sort of quick decision, some clear line about what is going to happen. No rumbling news stories for days on end. This must be the very last effort to deal with the leadership question before the election. And after that – with a bit of luck – some sort of pragmatic, policy based approach that activists can use in the run up to the election can be developed. Remember the Tories will outspend Labour 3-1.
MPs in the corridors of Westminster: please think of the country, please avoid the crass soundbites about unity, and – above all – do not dither, whatever way the decision goes.