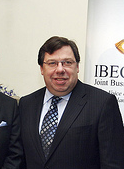 Irish Taoiseach Brian Cowen announced on Friday that the MEPs from his party, Fianna Fáil, will join the Alliance of Liberals and Democrats in Europe (ALDE) group in the EP after June's elections. Graham Watson, currently leader of ALDE, has welcomed the idea, as reported by EUObserver.
But let's look at this for a moment. Fianna Fáil's MEPs currently sit in the UEN group in the European Parliament, a rather right wing bunch that contains luminaries such as Law & Justice from Poland, the party of the Kaczyński twins, and Alleanza Nationale, the Italian post-fascists. There have been ideas before that Fianna Fáil should leave the group but it now looks like it will actually happen. But what about the idea to join ALDE? Is this not going from one extreme to the other? I don't reckon that Cowen and his party have that much in common with the UK's Liberal Democrats or even, for that matter, with the FDP from Germany who also form part of ALDE.
The real problem here, I suspect, is that Fine Gael, the main opposition party in Ireland, is already a member of the EPP-ED group in the European Parliament, and it would be the EPP-ED that actually has an ideology closest to Fianna Fáil. Yet for reasons of Irish politics it would be impossible for Fianna Fáil and Fine Gael to be in the same political group in Brussels; if any party should be joining ALDE it should be Fine Gael.
[UPDATE] More from N Whyte here, although he welcomes the move. I don't. Strikes me that ALDE's pursuit of more MEPs will result in less coherence in the group.
[UPDATE 2 – 9.3.09] Seems that Fianna Fáil's Brian Crowley is none to happy with Biffo's statements, seeing his own political career (as co-leader of the UEN) about to hit the wall in the EP as a result. He're a quote from his interview with Euractiv. Sour grapes?
I think the UEN has worked well for Ireland and for Fianna Fáil, we've been able to deliver policy at a European level, partly because I'm the leader. If I weren't the leader, if I were part of another group, would we be able to do that?