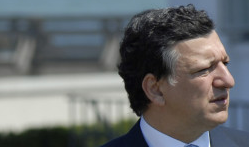 Jean Quatremer (original French, Google translation) has a strongly worded critique of José Manuel Barroso's role in the process of drafting the European Constitution, and his (lack of) reaction as Commission President during the 2005 No votes in France and Netherlands, and then the Commission's flat reaction to the goings-on in Ireland's referendum campaign. Quatremer particularly recalls Irish Commissioner Charlie McCreevy remarking that he too had not read the Treaty of Lisbon – even if McCreevy hasn't read it then it's unacceptable to say so from a member of the Commission, and Barroso failed to react. What's that in the Treaty about the general competence of the Commissioners…?
Anyway, I diverge. Quatremer is right – the time must now be up for Barroso. While he might have found favour in London he's presided over the Commission throughout what can only be described as an awful few years for the EU and to re-appoint him would be absurd and unacceptable. Equally Member States should avoid sending failed national politicians to make up the next Commission – that too sends the wrong signals to national electorates.
So who should actually be nominated as Commission President? Pascal Lamy would be my choice, and I reckon he's someone that would appeal to Quatremer too.