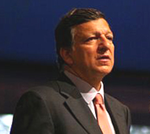 CaféBabel has an interview with Commission President Barroso (hat tip: European Union Law Blog) and they have a good go at him, which is refreshing to see.
He declined to answer the question "Why didn't you resign after the Irish referendum? It would have been a strong political message to the citizens" but he did answer "Don't you feel too neutral regarding the crisis of the Irish 'no' to then Lisbon treaty?" and his answer is quite illustrative of the man – he states that he went to Dublin, met campaigners from both sides, and was there because the Irish government invited him. And if they had not invited him? Aside from a bland defence of the Treaty there's little fire in Barroso's answer, and no mention of Commissioner McCreevy's behaviour (leading the way in my Blame Game). Weedy, weedy. You're supposed to be the leader of the EU!
Barroso also says he would be happy to continue for a second term of office and that will be decided next year, something that I think would send all the wrong signals about the EU's future.