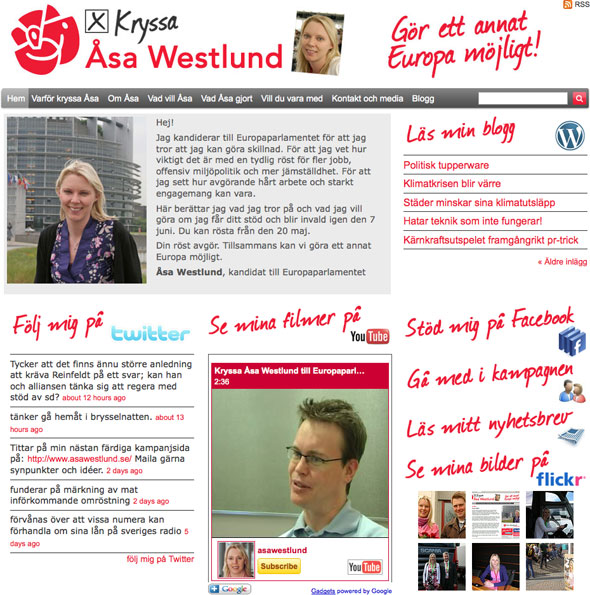 European Elections are now very much on the horizon and I'm happy to have been able to work with one MEP to create a campaign page – Swedish Social Democrat Åsa Westlund's site went online this week, of course powered by WordPress. The site brings together all of the different things that Åsa is doing online: content from her blog, latest Twitter updates, link to the Facebook supporter page, use of Youtube and Flickr. Essentially every possible online means of interaction with the electorate has been used – I hope that this should set the standard that other candidates in Sweden and elsewhere should aim to meet or exceed.
[UPDATE – 18.02.09, 1700]
There's an interview in The Guardian today with Thomas Gensemer, a managing partner of Blue State Digital, the company that did all the web work for Barack Obama. The article asks "Could he help Gordon Brown at the next election? He thinks so." Well, let's see what happens – Labour will need to really shape up if there is to be any major progress to help win an election. Maybe he could do something for some UK MEPs too? John Cruddas's Labour Deputy Leadership website was cited in the article. Well, which candidate won that election? And who did the web work for her then?