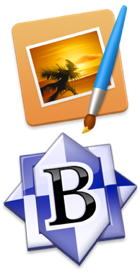 Back in October 2011, when I still lived in London, I bought two pieces of software for my Macs in the Mac App Store – BBEdit, then priced at £34.99, and Pixelmator, then priced at £20.99*. Those apps have been upgrading happily enough through the App Store system until today.
Today I reinstalled my iMac, wiping the hard disk and installing Mac OS Yosemite from scratch, and then I went to the App Store to re-download and install BBEdit, Pixelmator and others… and they were nowhere to be found.
The reason, it turns out, is that a month ago I changed my App Store location from the United Kingdom to Germany** to download the Cambio Carsharing App onto my iPhone (i.e. not even the Mac!) because as Cambio's cars are not to be found in the UK, its app is not available in the UK App Store. Why such a discrepancy needs to persist is beyond me – a regular British visitor to Germany could quite legitimately want to see where Cambio's cars are located.
But anyway, when installing the Cambio App through the German App Store I also had to change the credit card I have listed with Apple as well, and that struck me as rather odd. I have a Visa card from the UK Building Society Nationwide, but the address associated with the card and the account is in Germany. The Apple App Store refused this as a payment card for the German App Store. This is the screenshot of what happens:

So not only are the App Stores national, but so to are the associated credit cards! Is that at all necessary within the European Union?
And then what about the Apps – BBEdit, Pixelmator and the others?
The way to retrieve them, it turns out, is to revert the App Store account to the UK version – requiring of course the UK Visa card to do so(!) – and then the Apps are once more available for download:

The problem would of course then be that if I no longer had a UK Visa card then there would be no way at all to retrieve these Apps. Remember these are Apps that I have legitimately purchased and, when I switched from the UK to the German App Store in the first place, I received no warning that my purchases will not be retrievable. If for some reason I had closed my UK bank account when moving to Germany then none of my purchases could have been retrieved at all***.
Yes, I understand that some rights restrictions mean that still, legally, national law applies to some digital purchases – especially music and films. But please tell me how software to edit text (BBEdit) and photos (Pixelmator) that is available in precisely the same form across the EU should not be portable across the EU, and hence within national versions of the App Store? It's not as if Apple is technically incapable of tracking what Apps were purchased in which stores.
And tell me as well, why should a German Visa card be needed for the German App Store, and a UK one for the UK App Store?
The next time you hear a politician whining about red tape, and legal barriers to the Single Market, remind them of this Apple case. This is a private company that is deliberately making it difficult for consumers within the EU Single Market. This isn't a legal problem – it is a problem of the company's mentality.
* – make what you wish of my computer and software choices. This is essentially a blog entry about consumer rights, and I have chosen these two apps as examples as they are reasonably expensive paid-for apps.
** – note that I have lived in Denmark in between, but for whatever reason had never needed a Denmark-specific app and had hence not encountered this problem.
*** – the caveat to this is that once an App is installed on a Mac, it updates correctly through the Mac App Store, regardless of which national version of the App Store is currently being used. It is only that an App cannot be reinstalled that way.