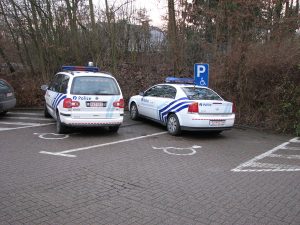 Brussels on a bicycle is the fastest way to get around, but it's often like some sort of assault course. Here's an example.
I set off from home at 1950 last night, heading from St Gilles to a friend's place in St Josse, going via Flagey, rue Gray, chaussée d'Etterbeek. Along the way I counted:
10 cars double parked
3 cars that were not road-worthy due to problems with their lights
2 drivers not using indicators when turning at junctions
1 driver jumping red lights
Why, oh why, don't Brussels police do something about this? Surely they could earn plenty of cash by fining people? These sorts of things are what makes cycling hell. Then this morning someone tweeted the picture shown above, and all becomes clear.