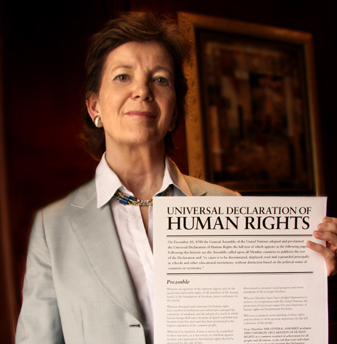 No sooner have the Irish ratified the Treaty of Lisbon than a campaign starts to try to get an Irish citizen nominated to be President of the European Council – Mary Robinson, former Irish President. If you back her candidacy you can join the Facebook group here – there are more than 1300 members as I write, not bad for a few days of work. More on the issue of a woman for at least one of the three top jobs can be found at Eurosocialist's blog here.
I'm absolutely in favour of the need for more women in EU top jobs, and Blair's candidacy makes me rather nervous – Blair at the European Council and Barroso in the Commission will produce only one winner, and it will not be the Portuguese…
But is Mary Robinson the right candidate? She has the right background and standing, and a large number of Irish people I follow on Twitter from across the political spectrum seem to like the idea of her candidacy. Can someone maybe enlighten me as to the reasons why she's actually good?