(Part 2 of this remembrance story about the trip itself can be found here. This blog entry explains the background.)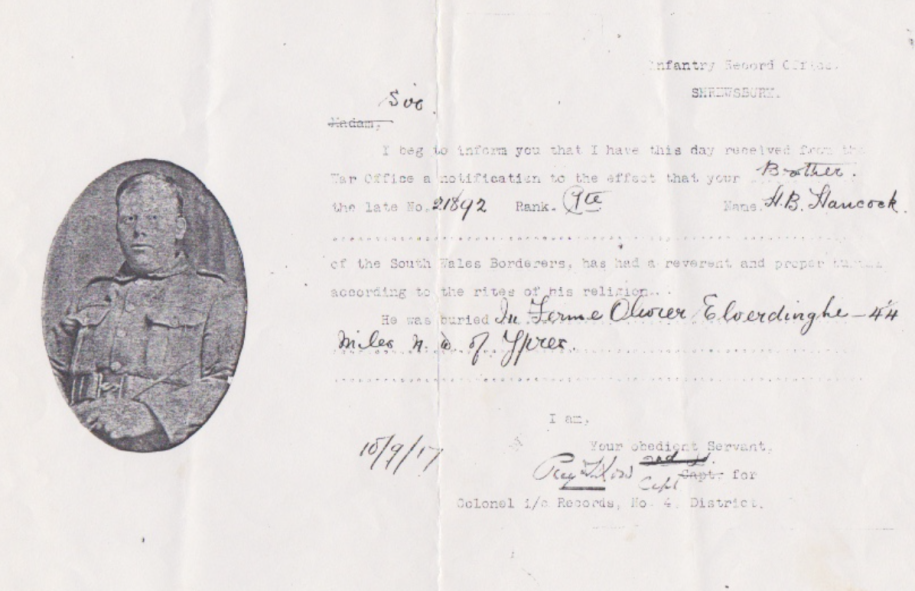 This coming Sunday I will travel from my home in Berlin to West Flanders in Belgium for a very special and personal act of remembrance. I will meet my parents there – they are making the trip from the UK. Our precise destination is the Ferme Olivier Cemetery, between Poperinge and Ieper, the resting place of Private Hubert Bertram Hancock. Hubert, or Bert, was my great grandfather's brother (on my mother's side), who fell aged 32 in Belgium on 4th June 1917. We are marking the centenary of his death.
As part of the overall war effort Bert was insignificant. He was one of thousands to die on Flanders fields. 410 others are buried at Ferme Olivier beside him. But he was a brother, a son, a part of a family, his loss a very personal and individual tragedy. As every loss in war or otherwise always is.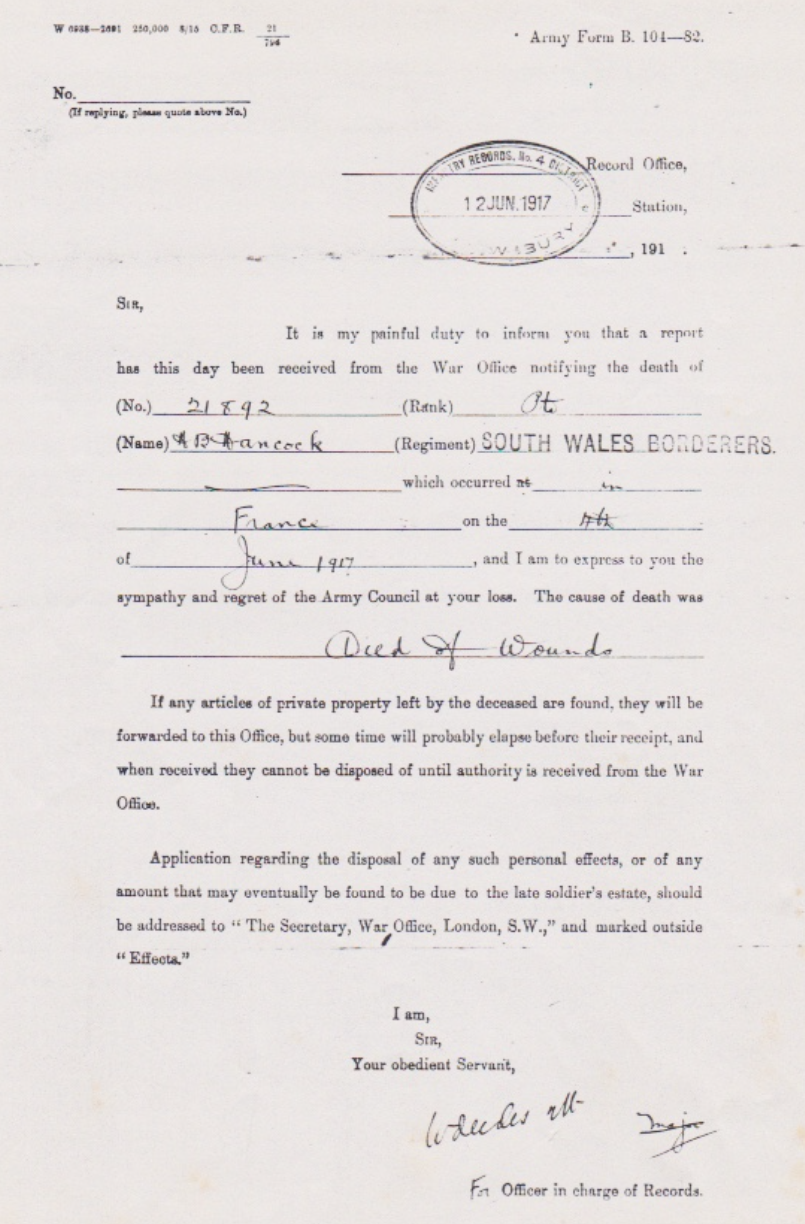 Information about how he died is sketchy – the official cause of death was "Died of Wounds" (see the scan to the right), and it was not until 1992 that anyone in my family even looked properly into the issue. The South Wales Borderers, his Regiment, referred us to a book about the regiment and the activity near Messines (today Mesen in Flanders) around the date of his death as a new front was constructed, although we do not know for sure if he was one of the men who died in its construction.
Why does any of this matter any more?
First, as war has not really touched anyone in my generation in Western Europe it is vital to remember and never forget the pain, the misery, the suffering, the loss – on all sides – in conflict. How this touched my own family is the most potent and sobering way to recall this.
Second, I today live in the country whose soldiers probably killed Bert that day a century ago. He fell in a country I have also called home in the past, a place I still regularly visit and work. And all of that is thankfully normal. That is progress.
Third, the failure of the international institutions established after World War I was partly to blame for World War II – and it seems that the institutions created after that to help guarantee peace in Europe have done a better job. Yet as Trump in the USA calls those very institutions into question, and Brexit threatens to move the UK away from its European partners, the endurance of those institutions looks a little shaky just now. That's worrying.
I will write a further blog entry on Sunday with pictures from the cemetery. For now take a moment to pause and reflect. And if you have never looked up what happened to your relatives killed in war I encourage you to do so. It is a melancholy and sobering experience.