(Part 1 of this remembrance story explaining the background can be found here. This blog entry recounts the trip.)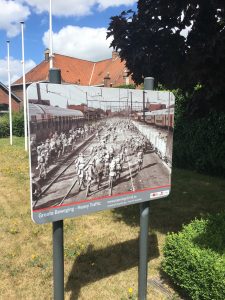 The train from Kortrijk to Poperinge rumbles its way through little villages and across the potato fields and pastures of West Flanders. Past the obligatory Frituur beside each small station. Cows munch grass. Sheep stand under old oak trees. And then there is a cemetery, its white headstones stark in the sun. And another one. And when arriving into Poperinge station a before-and-after picture showing how that very spot looked in World War I. There is even an app (Android, iOS) containing further images. You cannot avoid remnants of the war here.
The arrangement was that my parents would drive from the UK that Sunday 4th July, and I would take the train from Brussels, and we would rendezvous in Poperinge main square. It turned out that a 20k running race (and subsequent road blocks!) made that plan rather more complex than it might have been, but we eventually managed to meet and to find a way out of Poperinge towards Elverdinge and the Ferme Olivier Cemetery.
There, in Plot 3, Row D, Grave 6, towards the far end of the cemetery from the entrance, is the grave of Hubert Bertram Hancock. Uncle Bert as he had been known to my mother's family.
The cemetery itself is immaculate and sober, and somehow part of the landscape of the village, sandwiched between a field of lumbering cows, a field of crops, the road, and some houses. Flowers and other plants grow beside the gravestones, many of which seem to have recently been repaired to make sure they are still legible. Fallen soldiers from different regiments are grouped together.
I was keen to find out more about how my parents had taken it upon themselves to find out what had happened to Bert. The process, it turned out, started with the death of my grandfather and my grandmother then sorting out papers and records. A colleague of my father's at the time was a former soldier and he helped with the efforts in 1992 to work out where Bert was buried. My parents visited the cemetery for the first time in 1993. Bert's brother – my great grandfather – as a miner and later a railwayman – was spared from serving due to the industry in which he worked.
We sat in the summer sunshine beside the grave looking over all the papers my parents had brought with them. Among the papers my mother had saved a postcard I had written from the cemetery in 2002 when I had visited the Ferme Olivier on my own while living in Brussels. A picture of that card is below – its words are as true now as they were then.
We left a message in the visitors' book of the cemetery alongside others who had also made centenary visits to Flanders Fields, and finally planted some heather beside the gravestone. 100 years Bert had been buried here.
That then concludes this personal remembrance trip to Ferme Olivier. But we must never forget.