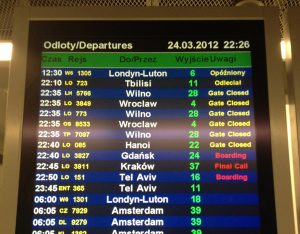 Yesterday I was due to fly from Warsaw Chopin to London Luton with Wizzair at 1230. The plane eventually took off just before 2330. The original plane had technical problems and could not fly. Almost 11 hours of delay. So now, the day after, and with a clearer head after some sleep, here are some thoughts about what has to happen…
As you can see from Wizzair's map, the airline flies 20 routes from Chopin. But yet it has no spare aircraft there, and indeed – it seems – no system in place to get spare aircraft if it needs it. This meant that we eventually departed from Warsaw once another plane had completed its duties for the day. There is also no attempt to spread the burden between routes – it's better for Wizz to delay one flight load of passengers for 11 hours than a few different flights a few hours each.
Second, the diffuse lines of responsibility mean it is almost impossible to find out what's going on. The gate staff were from Chopin Airport, not from Wizzair, and they were just conveying the information Wizzair was giving them which – until 1700 at least – was 'we do not have any information'. Yet a few hundred metres away on the tarmac was a Wizzair plane being repaired (ultimately unsuccessfully) by mechanics, but there was no way to get any information about what those mechanics were doing or had found. When I asked the airport staff whether they could ask someone from Wizzair to come to the gate I was told no, there is no-one in Warsaw who could come to the gate – they are all based in Budapest.
Third, the incentives in place in the EU's airline delays and compensation rules can lead to perverse outcomes. Passengers are entitled to food from 2 hours delay (see here), and rebooking or refunds from 5 hours of delay, but the longer the delay escalates passengers get no new rights until 'the next day' – i.e. midnight – when accommodation will be provided. So Wizzair just needs to keep open the idea there will be a flight at some point on the same day and they are in the clear.
Fourth, keeping passengers in the same place might make the passengers grumpy, but makes life easy for the airline. Yesterday if we had known hours beforehand that the flight would have departed at 2330 we would all have left the airport and done something else and returned when the flight was due to leave. But to make that happen Wizzair would have had to send text messages and/or e-mails to all of us to tell us what was going on. To do so incurs a cost, so they do not do it.
Now the long, hard task begins to try to extract compensation from Wizzair…
[UPDATE – 13.5.2012]
After a few e-mails exchanged with Wizzair, and dozens of e-mails exchanged among the passengers, we were ultimately successful – all the passengers I am in touch with have been reimbursed €250!