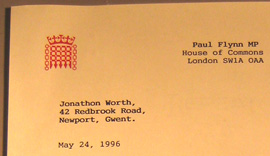 An interesting debate has started at Bloggers4Labour about why individuals have chosen to join political parties, and the Labour Party in particular. The debate has kicked off in part as a result of some Rowntree Foundation / New Politics work on the issue – more here.
So here's my story – on the record, and as clearly as I can remember it – about my motivations to join the Labour Party.
======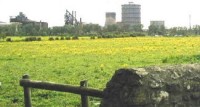 It all started in the spring of 1996. I was born in May 1980, meaning I had only ever lived under a Tory government. I was born and brought up in Newport in South Wales, son of two teachers – hence my family's economic situation was fine, but things in Newport were not. Jobs were being lost at Llanwern, and the coal mines in South Wales were all but closed by the time I really became politically aware.
Both my parents were (and remain) politically active – in the Liberal Democrats. This is not because they are really liberal; it's more that my father grew up in Rushcliffe in Nottinghamshire and if you're not a Tory there you are a probably a Lib Dem. On my mother's side, it was a sort of reaction against my grandfather – a Labour man all his life who sadly remarked in 1992 that he thought he would never live to see another Labour government – for him, so it proved.
In my family there was no way to avoid The Guardian, and the Today Programme and PM on Radio 4, and debating political matters was encouraged over meals at home. My first clear political memory is the fall of the Berlin Wall in 1989, and I also remember with complete clarity going to tell my parents the bad news that the Tories had won in 1992.
It's hard to recall what precise event triggered the decision to join the Labour Party. As a social democrat resident in South Wales who loathed the Tories with a passion, it was for sure the only party to join – there was no point contemplating the Lib Dems. Secondly, the MP for Newport West where I was living was (and still is) Paul Flynn – a thoughtful left winger who remains a political hero of mine to this day.
The image above is the corner of the welcome letter sent to me from Paul Flynn when I joined the party. The full letter can be viewed by clicking here. He hopes that I will find joining the Labour Party a very worthwhile step; more than 10 years on I think he was broadly right.
Paul was also right that I was one of the youngest members of the party; indeed as Vice-Chair of the Allt-yr-yn Ward party, I was often chairing meetings when the next youngest person was more than 20 years my senior. The high-point of my Labour Party activity was between 1996 and 1998 – the sheer jubilation of Blair's victory in 1997, and the close-fought campaign in the referendum to establish the Welsh Assembly – I campaigned for a YES.
Somehow my political upbringing in Newport will always be with me. Newport is no longer home; I can't imagine ever living there again. But the determination that things should be better for the people in towns like that will always at the heart of my political beliefs.
On that basis my degree of local activism has ebbed and waned. While an undergraduate I opposed tuition fees and my Labour engagement suffered, although I continued to do some work for Welsh Labour at the time. Later in Brussels I came across the bright and dynamic environment of Brussels Labour but was shocked and disheartened for the Labour MEP I was working for at the time. Upon returning to the UK, I found myself living in Vauxhall Constituency with Kate Hoey as the MP – not an inspiring environment for a manic pro-European and opponent of fox hunting. We'll see what happens next in Camberwell & Peckham.
Along the way there have been numerous other influences that have been of considerable importance. Earliest among them was the writing of Will Hutton – The State We're In was a major book that informed my political development. An interest in the German language and Germany in general gave me an understanding of what quality of life really means, while a diversion into working for JEF-Europe (and becoming its President) helped develop more concrete EU politics ideas. More recently, work with Helena and the Swedish Social Democrats has become a major influence.
I've probably rambled too long here, but at the heart of all of this activity has been a determination to play my small part in trying to improve the UK, improve the European Union, and maybe through those efforts, help everyone just a little bit. I've delivered thousands of leaflets, have never managed to get beyond the very lowest rung of the party, and have had periods of time when Labour Party engagement has driven me mad. Yet my party affiliation is like some kind of dangerous drug addiction – I know it's bad for me, I know it's going to hurt, I know I won't get anywhere, but that hope that I might just do a little bit of good keeps me coming back for more.