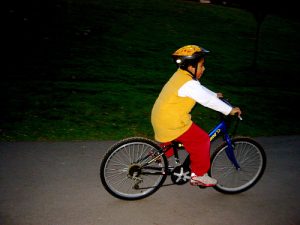 It was a grey yet dry day in Brussels; time to put my inline skates on for the first time this year and skate more than 24km between Delacroix Metro (line 2, in Brussels) as far as Beersel in Flanders, and back. I had intended to go as far as Hal but my thighs and behind were burning like hell so I had to restrict things a bit. Still it was more than half marathon distance, and with the Berlin Half Marathon coming up 5th April it was useful training.
But, frankly, I am quite lucky to be back home in one piece. I was on the way back from Buizingen with a strongish tail wind on the flattest, smoothest section of the canal approaching Ruisbroek. A family with 2 parents and 2 kids were ahead and I shouted to warn them I was approaching. The father ensured all four cyclists were in line on the right of the cycle path which is about 3m wide. Then, just as I'm overtaking, the smaller child veers sharply to the left into my path just a few metres in front of me. At a speed approaching 30 km/h and with less than 1 metre between the kid and I there was no way to swerve and go past.
So I shouted once more 'Attention!' at the top of my voice and – luckily enough – the kid veered again to the right and out of my path… and then fell off his bike! Feeling I had caused the problem I stopped and returned to the family who – of course – were Flemish. So not only had I managed to make their kid fall off his bike, but then I had spoken to them in the wrong language. How EVIL! OK, I think I was still in Flanders at that point, and hence was in the wrong. But I felt genuinely guilty (although the accident was not strictly my fault) and had no way of patching things up other than to make the family more angry. Very frustrating.
Still, it was good to skate for the first time this calendar year and with 6 weeks until the half marathon I'll looking forward to being on top form!
http://jonworth.eu/trailrunner/4DYGQR6.gpx