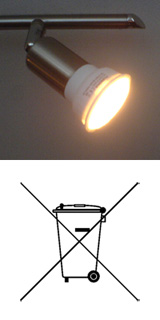 I thought it was about time to do something about the energy consumption from lighting in the flat I live in with Helena, so hence I have invested in 20 7W compact energy-efficient bulbs, bought online from LightingWorld. These are really wee bulbs – they are small enough to fit in GU10 Halogen bulb fittings.
Yet the bulbs are also WEEE in the sense that the means of dealing with them when they are broken has to comply with the EC Directive on Waste Electrical and Electronic Equipment (more here). According to this directive any equipment that cannot be disposed of in the normal domestic waste has to carry the wheelie bin with the logo crossed out (shown) on its packaging, and hence must be disposed of carefully – either by returning the product to where it was purchased, or thanks to a special municipal service. This applies to any non-filament light bulb – i.e. any LED or fluorescent tube.
So what can I do in Southwark? I could post the defunct bulbs off to LightingWorld, based in Kent, through the mail. Forget it. Far too costly, and time consuming. If I'm no going to do that, as someone who cares a lot about these things, then forget the idea that other people are going to do it. So it's down to what I could do with these bulbs in Southwark which – surprise, surprise – is quite complex. They can't go in the blue box I've finally received, and there is no service to collect them. The only option is the Manor Place depot.
Oh, and then there's the issue that probably no-one is aware of the fact that light bulbs are supposed to be collected in a special way, and how many people know what the crossed-out bin logo actually means? Now that's a big problem for the current UK government that is trying to look like its green.