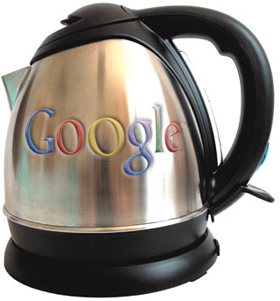 What an idea! That doing 2 Google searches produces as much CO2 as boiling water for a cup of tea. This is the first line of the Sunday Times article in which the claim appeared:
Performing two Google searches from a desktop computer can generate about the same amount of carbon dioxide as boiling a kettle for a cup of tea, according to new research.
Problem is that the Sunday Times article seems to have, so to speak, rather over cooked things. The author of the original piece of research distances himself from the claims in the newspaper, as reported by TechNewsWorld.
There's a very valid issue in all of this though: the amount of electricity used to power web servers and computers the world over. I've been conscious of this for a while. My work iMac runs on green electricity from Lampiris, and I have an OWL smart energy meter so I can keep an eye on my consumption. I'm also progressively moving a lot of my websites to a VPS at 1&1, and all their data centres are powered by green electricity.