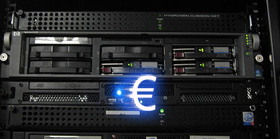 It's a matter of two things I care about: web technology, and European Politics – particularly the Euro and what it means for price transparency. I was looking at the price of 1&1 Virtual Servers for a client I'm working for, and came across some startling data. 1&1 is Europe's largest web hosting firm. It started out in Germany, and runs operations in France, the UK and other places too.
So how much should it be for a basic Virtual Server, Guaranteed RAM 128 MB, Burstable RAM (up to) 256 MB, Hard Disk Space 5GB, for a month?
UK: £14.99 (€20.94) excl. VAT, £17.61 (€24.60) incl. VAT – with 60GB monthly transfer
France: €9.99 excl. VAT, €11.95 incl. VAT – with 250GB monthly transfer
Germany: €9.99 incl. VAT (I think – one one price quoted) – with 300GB monthly transfer
So what's going on here? Same firm, very similar offers, and massively divergent prices between the UK and France and Germany. OK, paying your customer service people might be a bit more in the UK, but can't 1&1 off-shore that to India anyway? Is it simply the assumption that customers will not try to make these international comparisons, made harder by the UK not being in the Eurozone?
And then there's the bizarre web hosting market in Belgium where decent hosting prices seem non-existent, meaning you have to look to France, Germany or the UK anyway. But that's a different story altogether.