So the European Commission and 7 Member States finance and commission a European Report on Development. There have been three of them so far (details here), and the latest one – entitled Post-2015: Global Action for an Inclusive and Sustainable Future will be released on Tuesday next week. There's apparently a launch event about it happening in Brussels, with Commissioner Piebalgs speaking at it (3rd item here), although where and exactly when this will happen is a mystery still, and I do not think it is live streamed.
I've just heard a presentation about the report here at OECD's Global Forum on Development… but the presenters were not allowed to let us have copies of the report here, and the video they showed about the report is not available in public either. Sigh.
The best I can hence present is a few slides from the presentation (first pic mine, second via @MaliciaRogue on Twitter, CC Licensed):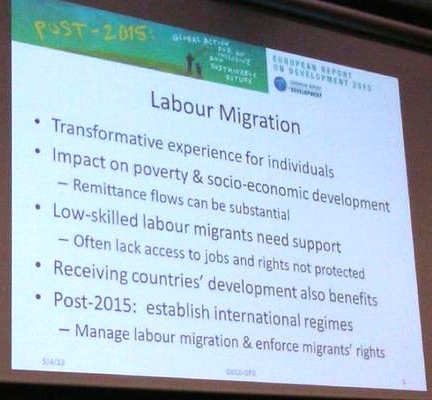 A decent discussion ensued, firstly from Duncan Green of Oxfam who basically asked "What's new in any of this?" and more or less failed to get an answer. Further discussion ensued about how the results of the report will be communicated to policymakers in Brussels and elsewhere – one of the authors, Claire Melamed, basically washed her hands of doing advocacy for the conclusions, while Charlotte Bué from the Commission explained all the offline events the Commission will be doing.
I'm struck by two things in light of all of this: the conclusions from the report seem extremely distant and abstract, and in an era of diminished finance from the EU there seems to be a disconnect between these and the everyday reality in the EU. Someone in the audience even questioned whether the EU had the political will to deliver on its high ideals. Second, the communication of this report could be much better handled – if this report is to be widely read and used, the online advocacy for it needs to be better than a simple website where the report will be released. The Commission still has some way to go with its online comms…