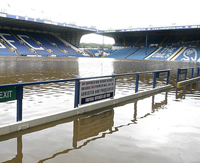 When any part of Europe is hit by a natural disaster, the country where the disaster strikes can appeal to the EU for assistance – these solidarity arrangements were put in place after the 2002 central European floods. So when parts of the UK were flooded last year it seemed sensible for the UK government to make an appeal to the fund. The government at first seemed reticent to ask for money, but after efforts from Richard Corbett MEP, Denis MacShane and others the request was made, and £110 million cash granted.
Perhaps there was reticience in making the original request knowing what would subsequently happen. If the UK gets more money from the EU budget, the UK in turn gets less money from the budget rebate – the mechanism Thatcher negotiated because Britain has few farmers and does not get much cash from CAP. So rather than giving the £110 million to the flood hit areas, only £31 million will reach the flood victims, as a rather frustrated Richard Corbett points out. The Treasury will pocket the extra £79 million, putting it into its general budget, to make up for the fact that there will be less budget rebate in this financial year.
This smarmy press release from DCLG dresses the whole thing up as extra money, but it a damned scandal. How the hell does the UK think it can – politically – get away with allocating only 1/3 of the money received for the task it's supposedly intended for? Plus this comes from a government that says it wants the EU to be more relevant. So when the EU is directly helping people in need in the UK the Treasury is siphoning off 2/3 of the cash!
Thing are not helped by the Yorkshire Post that gets its analysis completely wrong on the issue, claiming the European Commission and Tony Blair are at fault. How either are at fault is beyond me, but I suppose you could not get Tories to criticise the rebate as the Iron Lady negotiated it in the first place.
No, the blame for all of this lands 100% squarely with HM Treasury. Do they fear every single Euro the UK gets for any project, knowing the rebate will take a knock? Ludicrous. Plus this is £110 million – decent for flood reconstruction, but a pittance in comparison to the UK government's budget as a whole.
My apologies if this entry is not entirely coherent (I'll happily answer questions on the technicalities in the comments) but what the Treasury is doing with this is completely and utterly wrong. I'm seething with anger about it.