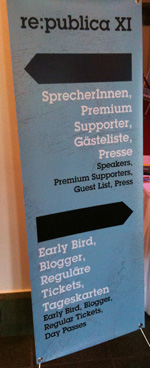 When you enter Friedrichstadtpalast to go to re-publica you're greeted by the sign to the right. Speakers, supporters, people on the guest list and press go the special desk. Everyone else – including bloggers – should join the regular queues to the right (which, incidentally, were very long on the first morning).
What is this? re-publica is a conference about the internet, about how the internet is changing politics and society. And yet journalists get special treatment. While it has been a breakthrough in the traditional EU institutions to get bloggers in, surely an internet conference should be a benchmark for equality in this regard?
Secondly, I've been struck by two speakers – Cyrus Farivar and Philipp Müller – who have used the stages at re-publica to give summaries of the books they have written – The Internet of Elsewhere and Machiavelli.net: Strategie für eine offene Welt (forthcoming) respectively. Especially with Farivar I was rather disappointed – 30 minutes on stage did not allow him to go into detail, while the broad statements he made could just as easily have been gained from Wikipedia. Yet in both of these cases it strikes me that the act of writing a book about something relating to the internet is, in these circles, considered grounds for respect.
All of this gets me thinking… should I write a book? Perhaps it's a better plan than the flippant tweet about bicycle shops yesterday. I'm one of the few people working right across Europe in the area of using social media for political campaigns. Would there be a way to make a worthwhile publication, ideally with a little pay, out of that I wonder?