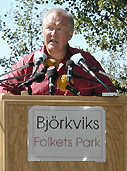 Polly Toynbee has written a column in The Guardian today about Sweden, this time analysing the threat of Fredrik Reinfeldt to Persson's government in the forthcoming elections. Toynbee often raves about the good things in Swedish society, and has generally been astute about Swedish politics in the past, but today's column misses the point a little. Yes, Reinfeldt can be compared to David Cameron in the UK. Yes, he is trying to say he will not wreck the social model. Persson does undoubtedly look quite tired.
But as far as I can gather, the polls do not presently look anywhere near as lousy as Toynbee states – see this from The Local that looks at the latest RUAB poll that gives the left a lead. Plus there are still plenty of voters that remain undecided – see Eric's blog for more. It seems that while the Social Democrats and Persson might not be doing positive things in order to stop themselves losing the election, the centre-right alliance is really not doing very well at actually trying to win it.
Anyway, I'm in Sweden for the next 4 days so I'll see what I can manage to work out for myself. I hope some voters somewhere might want to speak to a Brit who knows full well how good Sweden is and what the population here has to lose!