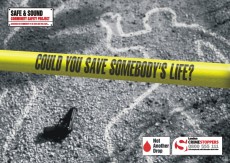 It was that great event in British political tradition today – the opening of Parliament and the Queen's Speech. Surprise, surprise, the main focus was on law and order issues – full list of bills here. Clampdowns on this and that, and promises of more anti-terror legislation too. David Cameron labeled it a climate of fear, and Ming Campbell said that all Blair was doing was legislation, legislation, legislation. Both are in my mind quite right. Oh dear, what's happening? And all of this on top of the absolute paranoia about security cameras – see this European comparison data from EUObserver.
But let's return to the old Blair phrase from back in 1992 as shadow Home Secretary – he promised Labour would be tough on crime, tough on the causes of crime (see this from Wikipedia). Labour has sure been tough on crime and actually crime has been falling across the board [details here] – in large part due to economic growth though. More from Polly Toynbee in a Guardian column here.
But what about the causes of crime? I really wonder about this. Essentially we live in a horribly unequal society, and this inequality has increased since 1997. While the very poorest in society have been helped out a bit, has Labour in any way aimed to engender a more positive, cohesive and optimistic society? It for sure does not feel that way. A bunch of new law and order bills, more people in prisons, or more ASBOs are not really going to help. We don't have a grip on inequality, or any discourse about the wider issues of quality of life. Until we do manage that we won't be tough on the causes of crime. Labour will instead just look tough and nasty.