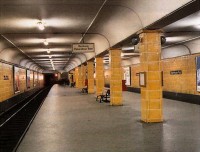 I've always had regrets about the months between October 2001 and March 2002 I spent in Berlin. First and foremost is that I did not manage to stay there longer. Second, that I really did not make close to the most of the – admittedly meagre – job opportunities I had. Third, I regret the messy and emotional personal situation I found myself in.
Despite all of that, the city will always have a special place in my heart. It was there that I became aware of how wonderful life can be outside the UK; aware of all kinds of competing and conflicting factors that contribute to a good quality of life.
But now I have an additional regret: that I did not make the most of my time in Berlin to understand the city's rich and bitter history. That realisation has been highlighten in large part by the book Stasiland by Anna Funder [link to Amazon] that I have just finished reading.

Funder bases herself in a lino-floored flat somewhere close to the U-Bahn station Rosenthaler Platz, the very station on the U8 I myself used so often. She gives detailed descriptions of the statue of Heinrich Heine, and the drunks and grafitti beside it, that I walked past so many times en route from my flat in Invalidenstrasse. She makes no mention of the bilious orange tiles on the walls of the U-Bahn station though, one of the enduring and strong memories in my mind.
Yet there are far more crucial aspects of parts of Berlin I was completely unaware of when resident there. Hohenschönhausen, an oxymoron for the former GDR, was the place at the end of my tram route to work, and a place known for the vulgar Plattenbau – 1960s communist housing developments. But it was also the location of the Stasi's most notorious jail. Or Lichtenberg. For me a grotty station, but actually close to the location of the Stasi headquarters.
So how did I manage to miss all of that? Reflecting on it, the complete absence of analysis of Communism and the Cold War was a stark omission from school history lessons. The Berlin Wall had after all fallen when I was 9 years old.
But I think there's also another reason. Here I was, 21, blinded by the lights of the big city. Blinded by actually working rather than studying. Blinded by being in a relationship at that time. I reckon I was simply too young to get to grips with the dense history of Berlin at that time. I don't know how and when, but I so hope that my professional life might allow me time back in that wonderful city again sometime in the future.